By Lydia Smith
Echo staff photographer
Lydia.smith3819@mb.rctc.edu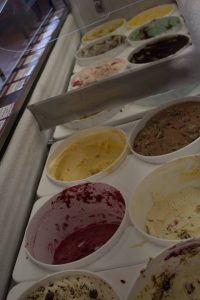 Nothing could be any better than dining on homemade ice cream in a fun, whimsical environment, and nowhere could do it better than Flapdoodles Ice Cream. With dozens of flavors any ice cream addict can leave happy. However, most people don't know the process behind making these marvelous flavors.
The ice cream makers wake up at the crack of dawn and begin making the flavors, mixing various ingredients and bases together before pouring the mix into the ice cream machine. Afterwards the ice cream maker gets the opportunity to add toppings such as the decadent chocolate chunks and the luxurious swirls of caramel that we all know and love. The ice cream is then scooped into tubs and put in several freezers including a blast freezer and a "halfway house." This aids in the quick hardening of the ice cream as well as the scoop-able softness the staff (better known as the ice creamologists) appreciate out front at the dipping cabinet in order to serve their masterpiece with ease.
Flapdoodles embodies a nautical theme in order to honor the owner's father, an Alaskan native who sailed the sea on his boat, "The Flapdoodle." The signature dish at this family-owned business is appropriately named Flapdoodle as well. When you order it you will find a mini sugar cone (a sail) resting atop a single scoop of ice cream (your boat).
Flapdoodles is open year-round, and even on the coldest and snowiest days Minnesota can throw at us, Rochester and the surrounding areas still find themselves choosing this novelty ice cream, and now the brand-new ice cream cakes as well.
Flapdoodles cakes are now made with a layer of cake from the Gingerbread House, surrounded by two other layers of select ice creams such as strawberry, birthday cake, chocolate peanut butter, coffee chip and of course cookie monster. Occasionally chocolate mint makes an appearance. In addition, just in time for Valentine's Day, Flapdoodles will be featuring brand-new heart shaped cakes. It's perfect for two, or let's be honest, binge watching Gilmore Girls and eating the whole thing by yourself.
Ice cream or cake, hot summer days or long winter months, Flapdoodles is sure to surprise and delight us for years to come.