The online scholarship application portal will be open for the 2019/2020 academic year from December 28, 2018 through  February 15, 2019. To access the online portal please click here: AwardSpring
Students MUST be admitted to RCTC in order to create a scholarship profile and apply for scholarships. To apply for admission please click here: Apply to RCTC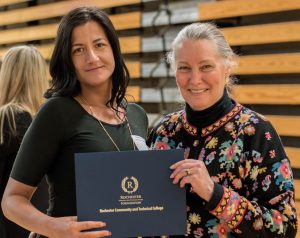 Completing a scholarship application can be a challenging task, however, if you are willing to spend the time preparing a scholarship application, writing an essay and collecting one to two letters of recommendation, it should pay off for you.
Things you may need to include in your application:
ü Academic honors                ü Civic Engagement
ü Extracurricular Activities     ü Statement of Purpose
ü Community Service             ü Essay
Looking for more scholarships?
If you've completed the application for RCTC Foundation scholarships and want to apply for outside scholarships, there are a number to choose from.
CONTACT INFORMATION
Rochester Community and Technical College Foundation
Office: (507) 281-7771
Fax: (507) 280-2970
E-mail: foundation@rctc.edu