Need money for Spring Semester? The RCTC Foundation has almost $12,000 in unawarded scholarships! You could be a recipient of one of these scholarships if you go in and apply September 30 – October 31, 2019. For one month we will open the online application portal to RCTC students interested in applying. You will need to login into your AwardSpring account and fill out an application to see if you qualify. Scholarships are available for the following majors:
Healthcare: EMT, Paramedic or Healthcare Documentation Specialist
Science: Computer Science Transfer Pathway, Environmental Science, 2+2 Bioinformatics Foundations, Natural Science, Science Foundations A or B
Business: Business Administration, Business Analysis, Business Management, or Business Management-Marketing
Liberal Arts
Law Enforcement/Criminal Justice
Building Trades: Facilities and Service Technician
Auto Mechanics
Welding
Horticulture
Fine Arts: Focus on Music
Apply today and don't let these scholarship dollars go unused!
Please Note: This is NOT our annual scholarship award cycle where 100+ scholarships are available. That scholarship application will open in January 2020.
To Apply:
Students will log in with StarID@go.minnstate.edu
Students will then be re-directed to their AwardSpring scholarship application dashboard.
If you are experiencing log-in issues, please email Tech.Help@rctc.edu with details.
PLEASE NOTE: You must use Google Chrome or Mozilla Firefox for browsers.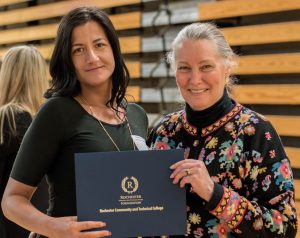 Completing a scholarship application can be a challenging task and we are here to help. If you complete the full application and follow all directions it could pay off for you.
Things you may need to include in your application:
– Academic honors                – Civic Engagement
– Extracurricular Activities     – Statement of Purpose
– Community Service             – Essay
CONTACT US:
Rochester Community and Technical College Foundation
Office: (507) 281-7771
E-mail: foundation@rctc.edu