Rochester Community and Technical College invites our campus community to hear from David Grant, an author featured in RCTC's common book, A Good Time for the Truth: Race in Minnesota. Grant authored the essay "People Like Us" and will be speaking on Thursday, September 29th at 11am in the Hill Theater. Faculty, students, and community members are encouraged to attend this free event.
Grant is a Twin Cities-based writer. As a playwright, he has been commissioned to write new work for the Minnesota Science Museum, the Minnesota Historical Society, Mixed Blood Theater (in conjunction with Bedlam Theater and Voices of Cedar-Riverside), VocalEssence, The Playwrights' Center, and The History Theatre.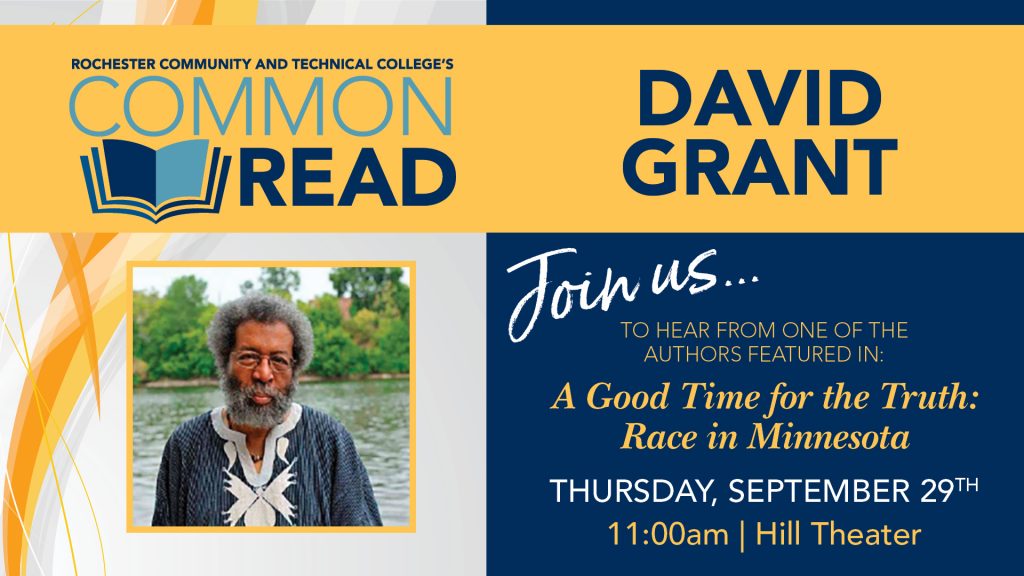 Grant currently teaches screenwriting at FilmNorth and MN Prison Writing Workshop. Current projects include a feature film script, "Pick A Side," a deeply spiritual urban drama co-written with Endless Memories, LLC principal, Timothy Hale; "Killing Mookie," a documentary film script for Bully Creative; and the adaptation of "Deep River," an unpublished young adult novel co-written with playwright John Olive into a limited series for television about President Lincoln's summer on the Mississippi the year he turned 19.
Grant is a graduate of Antioch College. He is president emeritus of Screenwriters' Workshop, a former member of The Loft board of directors, a core alumnus member of The Playwrights' Center, and a member of the Writers' Guild of America, west.
If you have any questions, please contact matt.bissonette@rctc.edu.