Microsoft Software for Home Use
Office 365 is a cloud-based Microsoft service allowing users to access a catalog of software (Outlook, OneDrive, Word, Excel, PowerPoint, OneNote, SharePoint, Microsoft Teams, and more) using any web browser on virtually any device as long as an internet connection is available. There are no installations, no updates, and nothing required from the user other than logging into the service.
OneDrive is a personal online storage system with 5TB of space when using Office 365, accessible anywhere a user has access to a browser and an internet connection.
Microsoft Teams allows for collaboration in Office 365 that integrates the people, content, and tools your team needs to be more engaged and effective utilizing instant messaging and video conferencing.
To obtain Microsoft Software, Log into your RCTC Student email account if you are a student, or your RCTC Staff/Faculty email login, then click the "waffle" in the upper left hand corner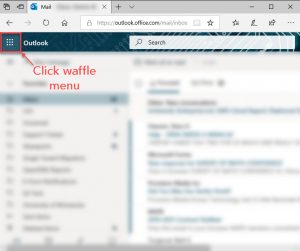 Then click Office 365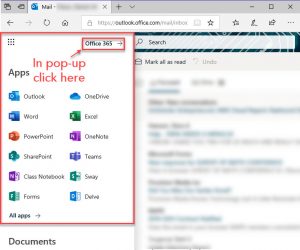 While Office 365 is cloud-based and requires no installation, there is also an option to install Office 365 apps.
Go to Install Office 365 Apps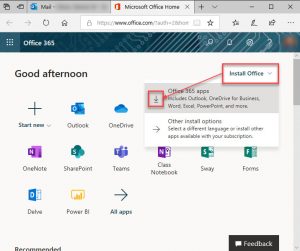 Then click run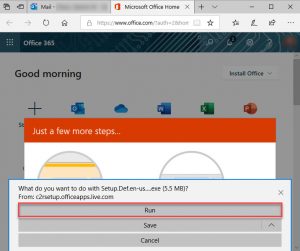 The screens will look different when installing on a Mac.
If you need assistance or have trouble please contact the Technology Support Center at (507)536-5555 or you can email tech.help@rctc.edu
Adobe Software
RCTC has an Adobe Campus Agreement which allows students to purchase Adobe creative cloud subscription at a discounted price.
You may need to verify your status as a student. Assuming you have not purchased from JourneyEd in the last year. You can verify your student enrollment quickly with VeriClick, but it does cost $2.95. If you do not verify your enrollment with VeriClick you must e-mail or fax a copy of your student ID to JourneyEd.
To obtain the Adobe Software:  www.journeyed.com/select/
Will your technology work for Online Learning?
Do a Technology System Check
D2L BrightSpace Browser Requirements
Note: Chromebooks currently do not support installing Respondus LockDown Browser which is used by some instructors for secure testing. Students that are considering purchasing a Chromebooks for use with their courses at RCTC are advised to contact their instructors BEFORE purchasing a Chromebook to see if they are using LockDown Browser.