Self-care isn't as easy as it seems. As college students, it can be hard to prioritize our own health, especially when we are pushed to prioritize academics, work, and extracurriculars. However, how we take care of ourselves now determines our health in the future, which is why developing good self-care habits is important.  Engaging in self-care is crucial for achieving optimal wellness in order to manage stress, reduce the risk of illness and ensure positive interactions.  This program targets six wellness dimensions (Interpersonal, Emotional, Financial, Academic, Physical, Spiritual) with events, lectures, and workshops to keep you moving forward in your wellness journey.
Spring Events
March – Physical Self-Care
Promoting and maintaining a healthy quality of life that allows one to get through daily activities without undue fatigue or physical stress. The ability to recognize the impact of behaviors on wellness, and adopting healthful habits while avoiding destructive habits, contribute to our optimal physical wellness.
I <3 Female Orgasm: Join us to laugh and learn about the "big O!"
Wednesday, February 14 at 11:00am in AT210
Join us to laugh and learn about the "big O!" Whether you choose to abstain or to be sexually active, you will learn how to make sexual decisions that are right for you. This program combines sex education and women's empowerment with a hearty dose of laughter.
SPRING WELLNESS CHALLENGE pdf
March 20-31 
Boost your personal health and wellness by participating in a simple 12 day challenge!
April – Spiritual Self-Care
The ability to establish peace and harmony in one's life, develop connections, to understand meaning between values and actions, and to appreciate the commonalities that bind all creation together contributes to our spiritual wellness.
GLOW YOGA: Add a new twist to finding balance!
Monday, April 1 at 10:00am and 1:00pm in CF206
If you haven't tried it before you don't want to miss out on this unique offering! We black out the windows, fill the room with black lights and pump up the tunes! Glow accessories will be available!
GUIDED MEDITATION: Finding peace in the moment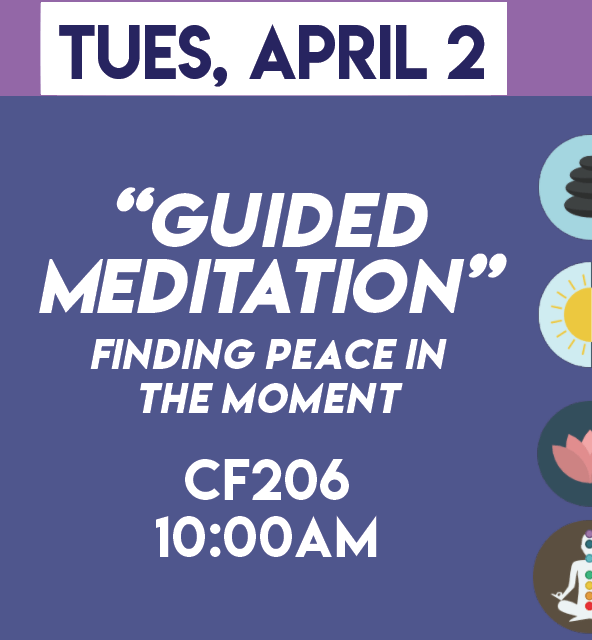 Tuesday, April 2 at 10:00am in CF206
Meditation can relieve stress and replace it with a dose of inner peace, greater clarity and focus. Meditating on your own may be difficult for beginners. Join us for this guided mindfulness meditation by RCTC's own Sara Atkinson. She will guide you through a meditation and help you find a calm and peaceful state—one step at a time.
YOGA: Mindfulness in motion

Monday, April 8 at 10:00am in CF206
Meditation and mindfulness don't have to only happen sitting down. When practiced mindfully, yoga postures are transformed from mere stretches into meditation in motion providing mental calm, balance, and clarity.
COOKIES & CANVAS: Create your own masterpiece!

Wednesday, April 10 at 12:00pm in the Cafeteria – 3rd flo0r College Center
Enjoy step-by-step painting instruction while you relax, have a cookie, and paint. Limited seats available, get there early to save your spot!
RAGAMALA: The art of classical Indian dance

Monday, April 15 at 12:00pm in Hill Theatre
As a first generation Indian-American artist, Ranee Ramaswamy explores the myth and spirituality of her Indian heritage in order to engage with what they see as the dynamic tension between the historical, the ancestral, and the personal.
A Semester of Self-Care: A Year Of Wellness
This program was developed in collaboration with the following RCTC departments:
Student Life, Counseling, Health Services, and WSU-R.