By Abigail Furutani
Staff Photographer
Abigail.Furutani1611@mb.rctc.edu
(Photos by Abigail Furutani and Sandra Furutani)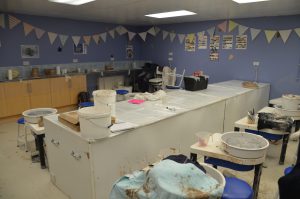 I decided to take ceramics at RCTC as an elective because I had heard good things about it from friends and acquaintances. I began with Ceramics I – and I have to admit that at first I was really frustrated because some skills, like centering, took me a long time to learn.
But I stayed with it, persevered and after awhile, I fell in love with ceramics and never wanted to leave the studio! I went on to take Ceramics II, and after that, I definitely knew that I wanted ceramics to be part of my gap year plans.
I was fortunate to be able to take classes in Stoke-on-Trent in England with David Frith, a well-known potter with a specialty in glazing. It was an amazing experience! I met some great people, and I learned a lot.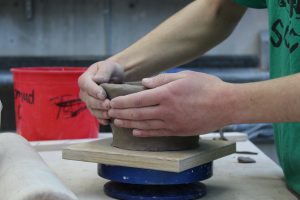 I met a woman who had a lot of trouble when she started out – like I did – but now works as a demonstrator for a local pottery museum. It was an example to me of never giving up on something you love to do.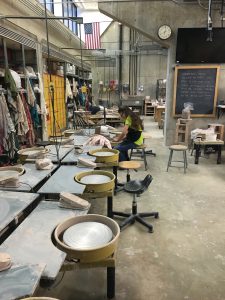 Following my classes, I was also able to visit other ceramics museums throughout the Stoke-on-Trent area, as well as in France and Germany, and learn some of the history of this incredible art form.
My time and experience in England helped me develop my skills, my understanding of and my love for ceramics. It is a big part of my life now, and I hope to someday have a studio of my own. Who knows, maybe someday I'll be working in a museum in Stoke-on-Trent!