By Blair Crouch
Staff Writer
Blair.crouch6305@mb.rctc.edu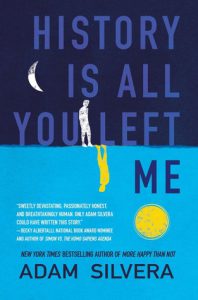 "History is All You Left Me" is a contemporary young adult novel by Adam Silvera. The main character's name is Griffin, and he is coping with the unexpected death of his ex-boyfriend Theo. We go back and forth between learning about their history and the present day, which is after Theo's death.
Although this sounds really sad it contains a lot of light happy parts during the "history" segments of the book, and plus it is LGBTQIA, which is always a plus. I thoroughly enjoyed this book and would recommend it to anyone who is looking for a heart-wrenching love story. Griffin was a very raw fascinating character to follow. He has Obsessive Compulsive Disorder and struggles with compulsions throughout the whole book, but I never felt like his OCD was at the forefront of the plot.
Sometimes characters that have a mental illness act as if that defines who they are as a "person" which can be quite frustrating for me as a reader because I want to see what else makes them who they are. Silvera did a beautiful job with writing such unique, quirky characters, and after reading his first book "More Happy Than Not" I can see that he has grown as an author and I cannot wait for his next novel.
I recommend this book to anybody who wants a coming-of-age story about learning how to be yourself after losing your other half. Thank you, Adam Silvera, for writing such a spectacular book.
Blair Crouch post reviews on Goodreads and also on her YouTube Channel, Blair's Books.