By Blair Crouch
Staff Writer
blair.crouch6305@mb.rctc.edu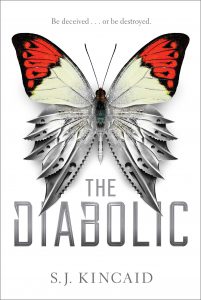 "The Diabolic" is a fantasy novel by S. J. Kincaid. The main character's name is Nemesis Dan Imperion. She is a Diabolic, a genetically engineered human-like creature who is made to protect.
Nemesis is bonded to Sidonia Von Imperion, a senator's daughter, in the politically tense empire. When Sidonia is summoned to court, Nemesis must go in her place to protect her.
Nemesis has to learn how to walk, talk, and think like a human while she parades around as a senator's daughter. There are so many twists in turns that you won't see coming.
The characters include Nemesis, Sidonia, and Tyrus. Kincaid described them in such a way that made me feel like I was a part of the story. I felt like I was Nemesis. I felt the jealousy and envy that Sidonia was feeling, and I am a hopeless romantic like Tyrus.
If I were to critique this book on one thing, it would be the pace since it is a stand-alone, I would have liked it to take some time to slow down toward the end for a more descriptive resolution. The main theme of this book seems to be a coming of age tale of finding yourself.
The characters are so vividly described I felt like I was in this world with Nemesis and Sidonia. The structure of the politics and the technology was fascinating, yet comprehendible. Nemesis was created with the inability to feel, but when she begins to realize these odd sensations in her body, she realizes she can feel. Throughout the novel, you start to see that Diabolics can love. Being a die-hard hopeless romantic, the love story was a very poetic gooey romance that I fell in love with.
It is incredibly written. Thank you so much S. J. Kincaid for creating such a powerful novel.
Blair Crouch posts reviews on Goodreads and also on Blair's Books on the YouTube Channel Blair's Books.