Welcome to RCTC's Assessment of Student Learning page. Assessment is how we determine that what we're doing, inside and outside of the classroom, improves student learning. In the fall 2016 semester, RCTC started an ambitious three-year commitment to embed student learning assessment as part of RCTC's culture. We now have a well-established campus culture of assessment. If you have questions or feedback about assessment at RCTC, please contact Mike Mutschelknaus.
Closing the Loop
Staff and faculty assessment resources
For faculty and staff training help, please consult your Outlook calendars for assessment workshops.
The assessment process
Assessment of student learning doesn't just happen. We coordinate our assessment to capture the learning that happens inside and outside the classroom. Much of what we learn in college, after all, occurs outside of the classroom. That's why assessment is a continual, ongoing process at our College. There are five levels of assessment at RCTC.
2020-2021 Assessment of Student Learning Professional Development Calendar
Each year, faculty and staff complete specific assessments, as the following table shows.
Course outcomes

(faculty)

Program/discipline level outcomes

(faculty)

Student affairs outcomes

(staff)

College core outcomes

(faculty & staff)

2019-2020
Closing the Loop Gateway courses
Outcomes 2 and 3
Outcomes 2 and 3
Personal & Professional Accountability

Communication

2020-2021
Closing the Loop Gateway courses
Outcomes 3 and 4
Outcomes 3 and 4
Communication

Critical Thinking

2021-2022
Closing the Loop Gateway courses
Outcomes 4 and 1
Outcomes 4 and 1
Critical Thinking

Global Awareness & Diversity

2022-2023
Closing the Loop Gateway courses
Outcomes 1 and 2
Outcomes 1 and 2
Global Awareness & Diversity

Personal and Professional Accountability
At the course level, faculty assess their individual courses (Closing the Loop) and courses with multiple sections (Gateway courses). At the program/discipline level, faculty assess at least two outcomes per year, rotating through the student learning outcomes over a period of four years. Student Affairs does the same rotation with their student learning outcomes. Finally, faculty and staff collaborate to assess our College's four core student learning outcomes on a rotating basis as well.
Assessment plans: We're looking to the future.
Student learning is the most important job that any college does. However, student learning doesn't stay the same from year to year. Courses and programs change. The demographics of our student population change. Technologies change our course delivery methods. That is why assessment planning is so important.
Our commitment to planning is reflected in our Institutional Assessment Plan (IAP), which focuses on faculty, student affairs, and college-wide assessment. The IAP is the master plan that guides all assessment at our College.
We systematically keep track of all our assessment data in the IAP with Taskstream, a subsidiary of Watermark.
Student learning outcomes: We care what our students learn.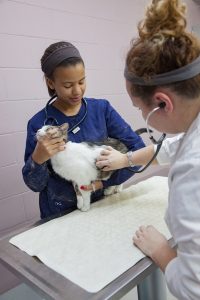 Student learning outcomes (SLOs), quite simply, are the skills and abilities we strive to instill in our students. Our SLOs are focused, specific, and measurable. In order to make sure our students are learning, we—as a college—must be able to specify and measure what we want our students to learn. That's why outcomes are so important, at every level of the college.
Assessment resources: We make sure we have the right tools.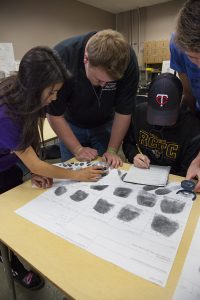 Assessing student learning takes time, energy, and people. That's why our college makes sure we have the necessary resources to further our efforts on behalf of student learning. We have a dedicated Assessment of Student Learning Committee. Our administration is committed to embedding a culture of assessment. Our faculty and staff care deeply about assessing student learning because learning is how we help our students have bright futures. Here's how we help our faculty and staff.
Taskstream assessment software allows us to keep track of our assessment data, draw meaningful inferences, and align our outcomes
As members of The Higher Learning Commission Assessment Academy, we gain valuable feedback from our mentors and our peer colleges. We are now participating in our fourth year of the academy.
Faculty Instructional Development Grants (FIDG) provide stipends for faculty engaged in assessment projects.
We rely upon the collected repositories of wisdom from the National Institute for Learning Outcomes Assessment and the Association of American Colleges and Universities.
Evidence of student learning: We have proof our students are world-class learners.
It's not enough to assess student learning within our college. We also want to know how our students use that learning once they graduate. We want to know that they have the necessary skills to achieve their goals. We have that evidence. Here are some examples.
Since 2015, 97% of students (117/120) in RCTC's Facilities and Service Technology (FAST) program have scored at or higher than the national average on the National Occupational Competency Testing Institute (NOCTI) assessment for buildings, utilities, and maintenance.
Since 2015, all RCTC carpentry students (55 total) have scored higher than the national average on the NOCTI Carpentry Assessment.
The pass rates for the Surgical Technology exam were 100% in 2019 (20/20), 77% in 2018 (17/22), and 100% in 2018 (19/19).
In 2019 10 RCTC graduates took the Registered Health Information Technician (RHIT) exam and 10 passed on their first attempt, resulting in a 100% pass rate. The national average for the same period is 76%. Additionally, RCTC scored above the national average in all 6 domain areas.
The pass rates for the Certified Tumor Registrar (CTR) Exam for the Cancer Registry Management Program (CRM) was 83% in 2019, 100% in 2018, 100% in 2017. There have been 26 graduates of the CRM program and 18 have taken the CTR National Exam.
As part of the assessment for a transcultural nursing course, for example, one student commented,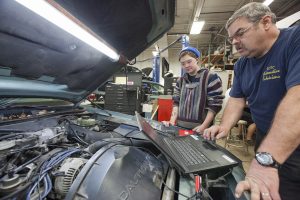 "This trip taught me to follow my passion. It reinforced that we have differences, but we all love, grieve, and are all human. This taught me that patient care should be individualized but our basic needs are all similar and how nursing is the heart of healthcare."
Use of student learning evidence: We use our assessments to improve student learning.
We also assess student learning because we want to make improvements. We are always trying to find ways to make our courses, programs, and degrees even more effective. These continuous improvement efforts are displayed in our newsletters, our gateway course assessments, and our core outcome assessment process.
November 2019 Core Outcomes newsletter: This newsletter showcases core outcome assessment projects in communication, global awareness and diversity, and personal/professional accountability.
April 2019 Assessy Awards newsletter: The second annual Assessy Awards are out! Check out this newsletter to find out this year's winners.
Spring 2019 assessment newsletter: In this newsletter, results from the Global Awareness and diversity core outcome assessment are explained. There is also a "Closing the Loop" update and highlights from the fall 2018 Higher Learning Commission Assessment Academy. Finally, core outcome and gateway course assessment are highlighted.
Spring 2018 assessment newsletter: This newsletter highlights how faculty and staff throughout the college are using their assessment results to make improvements. Admissions and records staff have increased the percentage of enrolled students. Chemistry teachers are improving the quality of their students' writing. English teachers have improved the curriculum for their freshman composition course, one of the largest courses, in terms of sections taught, at our college. The newsletter also shows we have an assessment framework in place that helps us to continue improving.
Gateway course assessment: These courses have a large number of students enrolled, such as freshman composition, or serve as pre-requisites for other degrees and programs, such as biology. Consequently, these courses are assessed each academic year so that faculty can make any needed curriculum changes. As an example of gateway assessment, here is the Spring 2019 English Department gateway assessment for ENGL 1117, the freshman composition course that enrolls the most students at RCTC of any course.
College core outcome assessment process: For each of our core outcomes, we follow the same assessment process.

First, faculty and staff collectively develop the outcome. The GAD core outcome is an example.
Based on the core outcome, faculty and staff develop a rubric, as shown in the GAD comprehensive rubric example.
The Assessment of Student Learning Committee then uses the rubric to develop specific guidelines for teachers in courses that meet the core outcome, as shown in the GAD assignment guidelines example.
These teachers then use the assignment guidelines to develop assignments for the college core outcome assessment.
From these assignments, student artifacts are collected.
Faculty and staff are then trained on how to use the rubric.
The rubric is used to assess student artifacts.
Assessment results are shared, and the necessary adjustments are made. The continuous improvement process starts over again.
This process is also in place for the Communication Core Outcome during the 2019/20 and 2020/21 academic years. To find out more about core outcome assessment, check out the newsletters below.
Resources