If you are enrolled in Summer courses and have a completed 2019-2020 FAFSA (Financial Aid application) on file at RCTC, your Award Notice will be generated within 5-7 days of your enrollment.  (There is no special/additional application form to submit).  Check out our Summer Financial Aid flyer for more details, including bookstore charging and disbursement dates!
NOTE:  Academic Standing evaluations for Spring 2020 will occur within the next week.  Students who do not meet the required GPA and completion rate standards will be notified of their Warning or Suspension status. Please be aware that these notifications may not be received prior to disbursement of Summer Aid.  RCTC will work with students who are no longer eligible to be in their Summer courses due to a Suspension status.  Please continue to watch your student email account for more information.
It's time to plan for next year. Complete your 2020-2021 FAFSA now!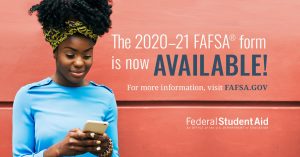 Financial Aid Information:
Financial Aid Applicants: