NOTE:  Disbursements are based on the number of credits a student is registered for as of the end of day, January 17, 2020.
It's time to complete the FAFSA for next year's Financial Aid!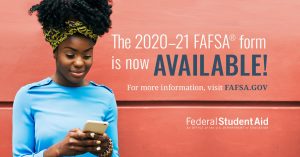 The Financial Aid Office continues to work with students who are completing their applications for Fall and/or those who are completing the 2019-2020 FAFSA for Spring 2020 or Summer 2020.
After the initial disbursement date for the Semester, Aid is disbursed each week, for new students who become eligible for Aid.  If you are expecting a disbursement, but do not receive your funding within a week of your award notice, review the following information and/or contact the Welcome and One Stop Center for assistance with your status.
You must accept your student loan funds via eServices, complete the online entrance counseling session and complete a Master Promissory Note before loan funds are prepared for disbursement.  Log into e-Services to complete the loan acceptance process today!
Work Study/Student Employment:

 
Review the current work study / student employment job openings.  Complete a Communication Form to have your name added to the Work Study waiting list.  Indicate the job(s) you are interested in on this form and we will contact you as soon as funds are available.
Expecting a disbursement but do not see any activity on your account?  
There are several reasons why your funding could be delayed.  Review the Financial Aid Guide for common reasons for delayed Aid.  If you still have questions about your Financial Aid funding, please feel free to contact us!  We're here to help!
Have you selected how you want your Financial Aid overage and/or Student Payroll checks released to you?  Using the GREEN envelope sent to you, visit https://www.refundselection.com/.  See the Cashier's Office for questions or assistance with this process.
Financial Aid Information:
Financial Aid Applicants: