Students interested in Financial Aid for Summer 2020 must be enrolled for Summer classes and have a 2019-2020 FAFSA (Financial Aid application) on file at RCTC.  (There is no special/additional application form to submit.).  Beginning mid-March 2020, Financial Aid awards will automatically be generated for students with summer registrations.  Check our our Summer Financial Aid Flyer for more details, including bookstore charging and disbursement dates!
Think Ahead! Complete the 2020-2021 FAFSA for next year's Financial Aid!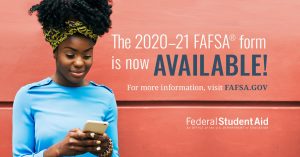 The Financial Aid Office continues to work with students who are completing the 2019-2020 FAFSA for Spring 2020 or Summer 2020.
Expecting a disbursement but do not see any activity on your account?  
There are several reasons why your funding could be delayed.  Review the Financial Aid Guide for common reasons for delayed Aid.  If you still have questions about your Financial Aid funding, please feel free to contact us!  We're here to help!
Have you selected how you want your Financial Aid overage and/or Student Payroll checks released to you?  Using the GREEN envelope sent to you, visit https://www.refundselection.com/.  See the Cashier's Office for questions or assistance with this process.
Financial Aid Information:
Financial Aid Applicants: