Charles E. Hill Theater
RCTC offers main stage productions which give students an opportunity to be involved in all aspects of productions. Auditions are open to all students.
Director: Jerry Casper, Gerald.Casper@rctc.edu, 507-285-7569
Technical Director: Ben Hain, Ben.Hain@rctc.edu, 507-285-7201
2020 Fall Production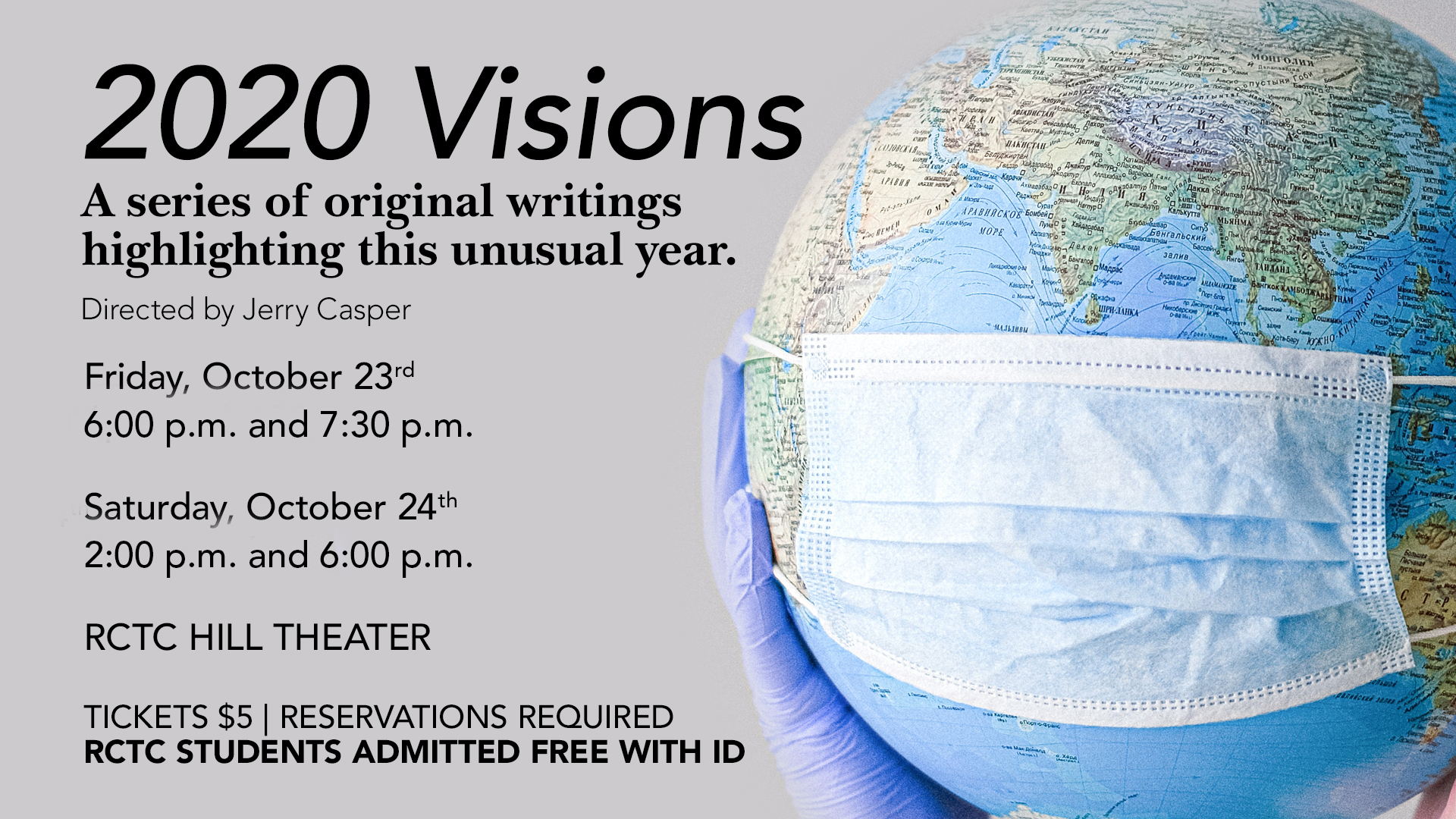 "2020 Visions" A series of comedic, dramatic, and fantastical viewpoints of this very unusual year
Performances
October 23 at 6:00 p.m. & 7:30 p.m.
October 24 at 2:00 p.m. & 6:00 p.m.
Tickets
Purchase tickets Monday-Friday 9:00 a.m.-3:00 p.m. at 507-285-7200
$5.00 (cash or check only)
Free to RCTC students with student ID
SPECIAL NOTE: THE SAFETY OF THE PUBLIC AS WELL AS OUR STUDENTS AND STAFF IS OF PARAMOUNT IMPORTANCE HERE AT RCTC. COMPLIANCE WITH THE FOLLOWING RESTRICTIONS WILL HELP KEEP US ALL SAFE AND ALLOW US TO HOST MORE EVENTS LIKE THIS IN THE FUTURE. THANK YOU FOR YOUR COOPERATION.
COVID-19 Restrictions — Please Ready Carefully
Seating space and locations are limited in order to comply with social distancing guidelines, prior reservations are strongly encouraged. Please be aware that groups of 3 or more may need to be split up. We will do our best to safely seat you with your companions.
All attendees will be required to complete a brief Covid health screening (4 or 5 questions) upon entering the building. Students, employees, and visitors are required to complete it every day before coming to campus. It is very short and can be done a couple of different ways:
There is a paper form at the check in table just inside the entrance.
The COVID-19 screening tool can easily be accessed via a QR code reader. The QR codes are on large yellow placards posted throughout the parking lot and around building entrances.  If you are having difficulty scanning, consider downloading a QR app (especially on older android phones) or simply fill out the paper form just inside the building.
 All attendees must enter and exit through East Hall Entrance, just off of the East Parking lot. This is the entrance normally used by the public attending events in Hill Theatre anyway so this has not changed. There will be a table just inside where staff will ask you to fill out the health screening and give out masks if needed.
Masks are required. If you do not have one, we will provide one to you.
Hand sanitizer use is encouraged when entering and exiting the theatre hall. There are wall mounted dispensers at each entrance.
Theatre Staff will be sanitizing surfaces in the theatre, around the theatre entrances, elevators, restrooms, etc.. before each performance.
Are you a student interested in the Theater Arts?
RCTC Theater offers Theater Appreciation, beginning and intermediate level acting classes as well as Stagecraft where you can learn about stage and set design! Put your creativity to work! Check the online course catalog for availability and sign up!
RCTC Theater Program has a long standing tradition for providing high quality education to young and inexperienced actors. We pride ourselves at preparing you for the next level of your theatre arts journey. Whether your interest is to become a regular on the community stage or further your knowledge by going into a four year theatre program, we will make sure you are ready for the next step.
RCTC Theater produces three main stage plays every year. In the fall we produce a children's play that is seen by three to four thousand students a year. In the spring we produce one larger comedy or drama and one experimental play often in conjunction with the Rochester Reads program.
Beyond our main stage offerings, the student directed Drama Club writes and performs short one or two night variety shows and performs and hosts performance for fund raising events for on and off campus organizations. The drama club typically does three to four performances a year as well as going to local and professional shows for free or at a discounted price.
Our Faculty
Jerry Casper has his MS in Theater from Fort Hays State University. He has over 30 years of experience as an actor, director, playwright, motivational speaker and educator. He was awarded one of Minnesota's Outstanding Educators of the year in 2011.
For more in-depth  information about our program, productions, or our Drama Club, contact Director Jerry Casper at gerald.casper@rctc.edu or call 507-285-7569.