With the help of our generous donors, the RCTC Foundation awards over 250 students with scholarships to attend RCTC annually. Scholarships are designated for incoming students (have never attended RCTC), returning students, and graduating/transferring students (planning to continue their education at a four-year college or university after graduation). They range in value from $200 to $5,000 and are usually divided equally between Fall and Spring semesters. Students majoring in Accounting, Business, Dental, Fine Arts, Healthcare, Liberal Arts & Sciences, STEM and Technical/Trade programs will have access to over 140 scholarships.
Apply January 6 – February 14, 2020 for the 2020-2021 academic year.
AT&T Scholarships Available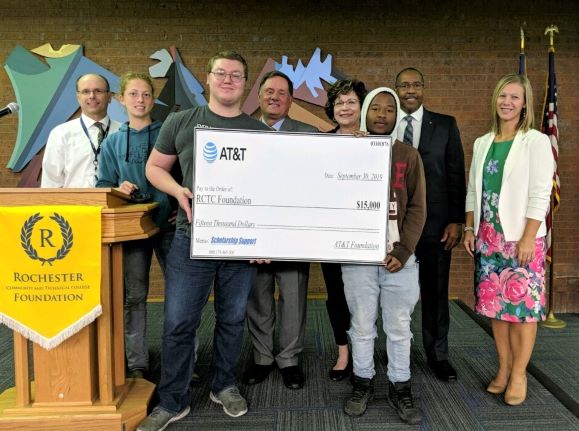 For the second year in a row, the RCTC Foundation is the recipient of a $15,000 grant from AT&T. This money will be used to fund scholarships in the following areas:
Construction Trades (Carpentry, Facilities and Service Technician, Welding, and Computer Aided Drafting), STEM (Computer Science, Engineering, Science, Healthcare Informatics, and Nursing), and Entrepreneurial (for students who currently own a small business or those wanting to start a small business after graduation).
CONTACT US:
E-mail: foundation@rctc.edu
Office: (507) 281-7771