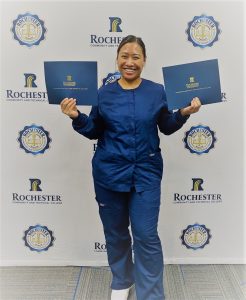 RCTC is an exceptional value, but even affordable schools can be out of reach for some students. Scholarships help to ease the financial burden for most students and do not need to be repaid.
Thanks to our generous donors, the RCTC Foundation will offer over $460,000 in scholarships for the 2022-2023 academic year. Scholarships help pay for tuition,
textbooks, and class fees, and each award is based on a variety of criteria such as area of study, demographics, financial need, GPA, etc. Scholarship applications are accepted three times a year.
Apply for Scholarships for Fall + Spring Semesters (2023-2024)
Scholarship Application Window Open: April 7-May 22
Reviewing of Scholarship: May 22-June 6
Notification of Awards: Week of June 19
Award Ceremony: October 2023
Award Disbursed: Beginning Fall Semester 2023
How to Apply for Scholarships
New RCTC Student:
Click on 'Register'
After creating an account, applicants will then be re-directed to their AwardSpring scholarship application dashboard.
Prospective students who have previously registered, and are returning to the portal, will login at the SAME link and with the SAME e-mail and password with which they registered.
If you are experiencing login issues, please do NOT create multiple accounts. Please contact the RCTC Foundation office for assistance by e-mail at: foundation@rctc.edu with details.
AwardSpring works best with Google Chrome or Mozilla Firefox
Current RCTC Student:
Students will log in with StarID@go.minnstate.edu
Students will then be re-directed to their AwardSpring scholarship application dashboard.
If you are experiencing log-in issues, please e-mail Tech.Help@rctc.edu with details.
AwardSpring works best with Google Chrome or Mozilla Firefox
Karsell Family Scholarship
Contact Us
E-mail: foundation@rctc.edu
Office: 507-281-7771