Welcome to Student Life!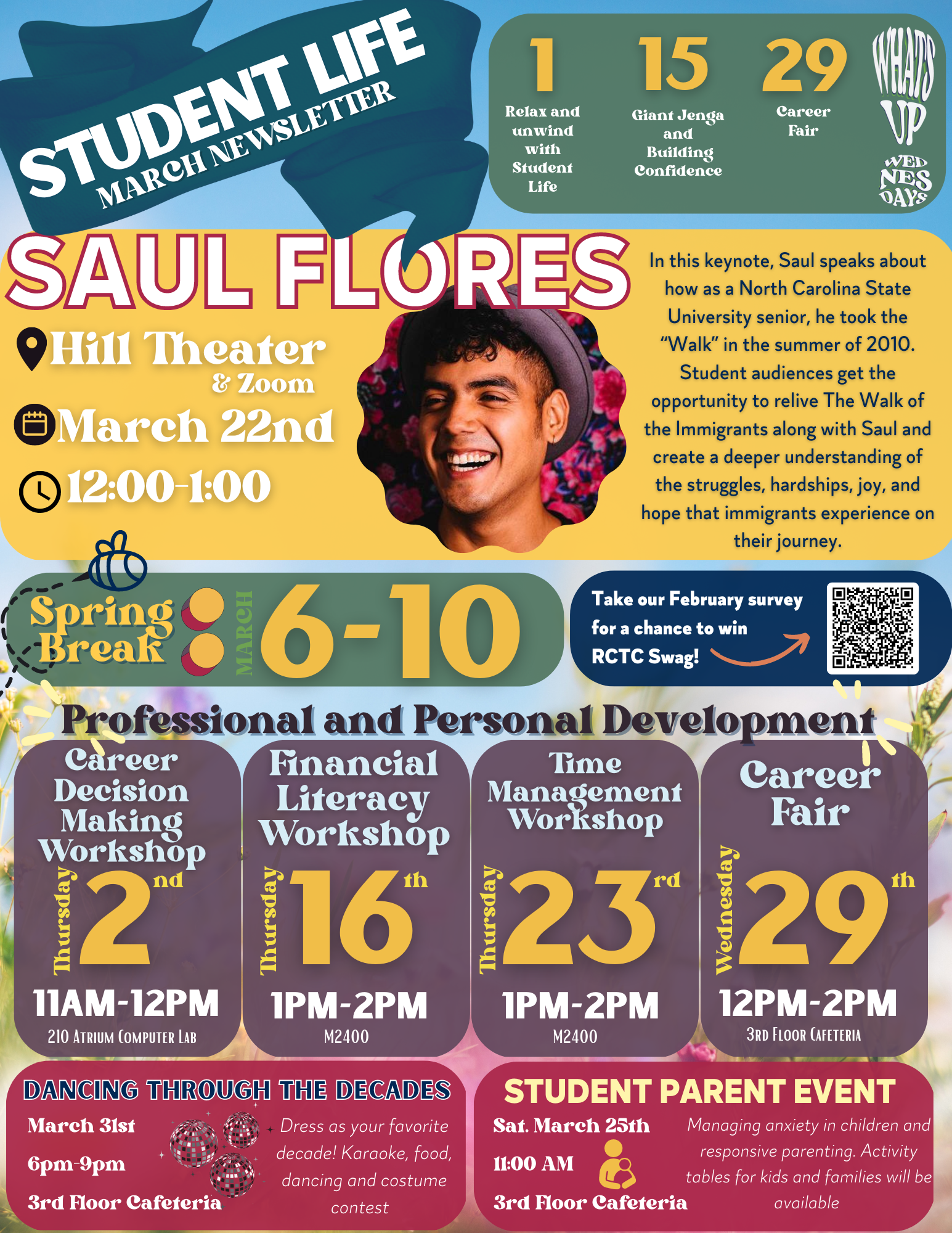 ---
What's Up Wednesdays
Join us every Wednesday at noon in the Hive for "What's Up Wednesday!" Learn about upcoming events, hear from other students, and have fun!
Who: All Students, staff and faculty welcome!
When: 12:00 Start Every Wednesday
Where: The Hive (3rd floor Cafeteria)
What: 
March 1: Relax and Unwind with Student Life
March 15: Giant Jenga and Building Confidence
March 22: Saul Flores Presentation in the Hill Theater
March 29: Career Fair
FIND YOUR HIVE. GET CONNECTED. 
The mission of Student Life is to connect our students, faculty, and staff to create a sense of belonging in our community to support learning inside and outside of the classroom. Current Student Life programs include:
Questions about getting involved? Connect with us on D2L on the Virtual Hive or @RCTC_SL!
RCTC was designated a Hunger Free Campus by LeadMN

 
Hunger-Free Campus is an initiative by LeadMN to address food insecurity on community and technical colleges. The 2020 #RealCollege national report shows that 45% of college students in the United States are food insecure. This statistic is consistent with recent Minnesota data that shows 37% of college students have experienced food insecurity, meaning they do not have a steady source of food or cannot afford to feed themselves or their families. A Hunger-Free Campus is a Minnesota State community and/or technical college that is actively taking strides to reduce food insecurity amongst students.​

Recently, LeadMN has published a report on the Impact of Hunger Free Campus Designation. RCTC is featured numerous times. The report can be found here: LeadMN Impact of Hunger Free Campus Designation 
Become a Voter in Minnesota
Visit Vote.Gov to learn about registering to vote, check your registration status, understand the rules on voting early and mail-in ballots in your area, and to find you polling site!
Or, visit the website of the Office of the Minnesota Secretary of State Steve Simon to learn more about elections and voting in Minnesota; or register to vote online! Reach out to RCTC's Campus Vote Coordinator, Megan Tate, with questions regarding voter registration or ways you can vote in the upcoming elections!
Rock The Vote
Rockthevote.org only uses personal information for the original purposes it was given. By filling out this voter registration form, students should know that Rock the Vote (RTV) may contact them to ensure they have completed the voter registration process, to remind them about upcoming election dates and deadlines, and to engage them in RTV-related programming, if they opted in to receive additional communications from RTV.  For more information please see rock the vote's Privacy Policy online.
Student Life Staff