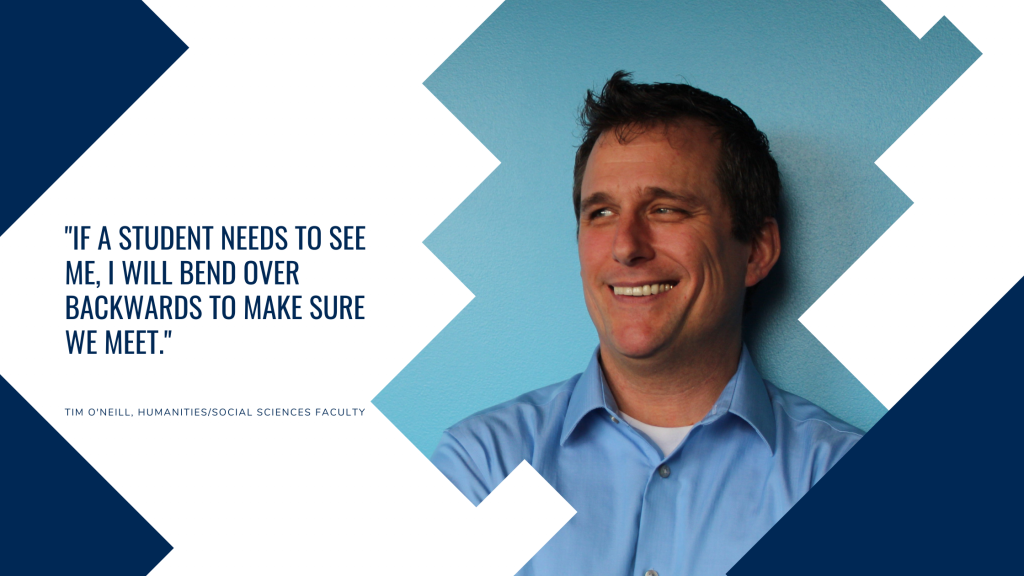 Tim O'Neill, humanities and social science instructor, transitioned his classes online and he kept his dedication to students. One of Rochester Community and Technical College's values is respect. Tim embodies that as he works with and connects with students. He demonstrates understanding and sensitivity–especially during this unprecedented time.
How have you adapted your courses and/or teaching this fall?
Most of my load is completely online and asynchronous (instructors provide materials and assignments that students access online anytime or within a given time frame), but one Bioethics class which meets in-person. Since there are more students registered in the course than the COVID-19 restrictions permit, half of the students attend on Tuesdays and half on Thursdays, using Zoom on the days that they learn from home. Some students have opted to attend via Zoom both days, essentially turning the course into a synchronous online class for them. One tool that has revolutionized my synchronous online teaching, especially in a visual class like logic, is the document camera which allows me to draw diagrams and tables and highlight text in real time for online students.
With limited or no face-to-face time in the classroom, what are you doing to connect with the students in your classes?
I try to include more video in my classes, to keep things personal. This is no substitute for a student who prefers face-to-face learning, but we try. I hold regular office hours and conduct paper consultations through Zoom. Since my office hours do not serve everyone, I continually encourage students to make an appointment with me. If a student needs to see me, I will bend over backwards to make sure we meet.
What advice do you have for students to get the most out of their experience/classes at RCTC?
Show up whether face-to-face, online, synchronous, or asynchronous. We cannot teach you if you are absent. With your asynchronous, online class this might mean reading or watching professor-created content or engaging in discussion forums. For online classes, log into class on the first day of the semester as if it is the first day of class (because it is); you may have assignments due the very first week and you want to start off on the right foot.
Learn how the online portion of the class works right away, even in a face-to-face class. The first day of class you should read your entire syllabus and explore the D2L course and see if your teacher has created an introductory video or activity to help you learn to navigate her class.
Get to know your instructors and use us. We are here because we care and we want you to succeed.
Do you have a special moment with a student/students/class from this last semester that you would like to highlight?
One of my online students in PHIL 1145 Logic was struggling with Venn diagrams. She had viewed all of my videos, read my teaching materials, viewed my PowerPoint presentations, and been active in discussions, but the concept still eluded her. It sounded like she was overthinking it and I encouraged her to meet me via Zoom, confident that a 1-on-1 meeting would help. We made an appointment outside of my office hours and, in less than an hour she was off and running. She logged out of Zoom feeling confident and empowered in the class. That made my day. I wish every struggling student did the same.