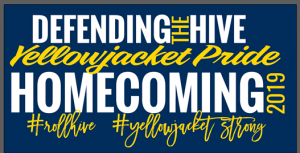 Homecoming 2019: "Defending the Hive… Yellowjacket Pride" September 16-21, 2019                  
Description: We are excited to welcome the entire campus to participate in the fun! Homecoming week is the perfect opportunity to get involved on campus. You will have the opportunity to support your fellow students in all aspects of student life! This week will be filled with fun, traditional events that highlight Yellowjacket Spirit!
Schedule of Events!
Homecoming Week 
Monday: Video Game Madness in the HIVE Cafeteria 10:00am-12:00pm. Back by popular demand!
Student Senate Vote! All day on D2L, vote for your fellow students!
Tuesday: Student Senate Vote! All day on D2L, vote for your fellow students!
Wednesday: Club Expo! 10:30am-Noon. Come learn about what clubs RCTC has to offer and see if you want to get involved! Enjoy some free food and music provided by a DJ!
PEP-RALLY! @Sports Center Noon-1:00pm. Come enjoy free food & pick up some spirit items!
Thursday: Pancake Breakfast at the Heintz Center starting at 8:00am! Free breakfast for the first 100 students!
Movie in the HIVE Cafeteria 2:00pm-4:00pm. Get into the sporting spirit with "Invincible"
RCTC Women's Soccer 4:00pm at the Stadium. GO YELLOWJACKETS!!!
Friday: Office Spirit Wars – Judging Day!
Volleyball Game 6:30pm in the Sports Center Performance Court
Saturday: Volleyball Noon in the Sports Performance Court. GO YELLOWJACKETS!!!
Pre-Game Tailgate with the Yellowjackets, Dr. Pepper and MN 97.5 at the Stadium 6:00pm-7:00pm. Win a package which will include a corn hole game, fold out chair, a pack of Dr Pepper, RCTC season tickets, Yellowjacket swag and more. Bring your families! Football kicks-off at 7:00pm
Be sure to wear your YELLOWJACKET gear all week for a chance to win prizes! RCTC students get into all sporting events for FREE with Student ID! Questions, reach out to Student Life at studentlife@rctc.edu or 507-285-7204.
Office Spirit Wars!
Please have your offices/department area decorated by Monday, September 16 to kick-off the week. Judging will take place on Friday, September 20, between 10am-Noon.  Check out our Facebook page to see some photos from last year to help spark your creativity!
Judging criteria will include:
· Display of School Colors
· Presence of Yellowjackets
· Music/Ambiance (During Judging Period)
· Overall Energy and Creativity
Participating Offices 
Office of Student Rights and Responsibilities – Follow the Yellowjacket Road
Athletic Office – Yellowjacket Pride
Disability Services and TRIO Student Support Services – Yellowjacket Trivia
Learning Center – Defending the Hive
Business Office – Go! Fight! Win!
GOOD LUCK!