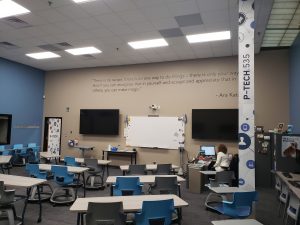 RCTC, in partnership with Rochester Public Schools, IBM, and Mayo Clinic, welcomed 70 new high school students to campus Tuesday as they began their journey towards a high-paying career via the P-TECH 535 school housed here on the RCTC campus.
This innovative collaboration offers students a means towards a career via pathways in nursing and Information Technology (IT). This public-private partnership allows students to take high school and college coursework simultaneously while engaging in industry-guided workforce development.  Students have the opportunity to earn both their high school diploma and a diploma in practical nursing or an associate of applied science in IT.  Students will receive workplace experiences through job shadows, mentors, and a paid internship.
P–TECH is a public-education model that provides high school students from underserved backgrounds with the academic, technical, and professional skills and credentials they need for competitive STEM jobs.
For more information about P-TECH, visit https://www.rochesterschools.org/page/about-p-tech-535 or https://www.ibm.org/initiatives/p-tech.