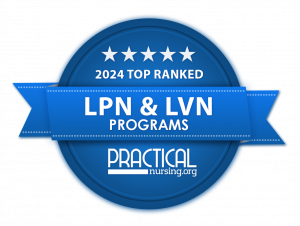 Rochester Community and Technical College is proud to announce its Practical Nursing program is ranked #2 in Minnesota by PracticalNursing.org.
Each Practical Nursing program is evaluated on various factors, including past and present first-time NCLEX-PN pass rates, weighted by year. PracticalNursing.org methodology assesses how effectively a program supports students in their journey toward licensure and beyond.
The NCLEX-PN exam is utilized by state boards of nursing around the country for testing proficiency and granting practical nursing licensure (LPN). NCLEX-PN rates are one of the best ways to determine how well a school is preparing its students for a career in practical nursing.