Check out the following links for important RCTC information

Summer and Fall 2023 Registration Opens
RCTC Has Great Educational Support Resources
Summer Graduation Application
Parenting Student Event
Outstanding Educator
---

SUMMER AND FALL 2023 REGISTRATION OPENS
Your registration window is the time frame you can register for classes. Registration windows are made available to students mainly based on the number of credits they have earned. Earned credits are those that have been completed and graded.
To see when you can begin registration, log into eServices. You'll find the 'Registration Window' tab under 'Courses and Registration'. Select the appropriate Semester and then Submit to see when your window opens and closes.  The last day to add most courses is the fifth day of the semester.
Summer 2023 Semester Registration Dates
| | |
| --- | --- |
| Current and Returning Degree-Seeking Students | Tuesday, February 2, 2023 |
| Non-Degree-Seeking Students** | Thursday, March 2, 2023 |
| Visiting Students | Thursday, March 2, 2023 |
Fall 2023 Semester Registration Dates
Meet with your Advisor to create your degree plan for program completion. Appointments can be made using AdvisorVue.
| | |
| --- | --- |
| Selective Admission: those students who have been formally admitted or cohorted into selective programs | Tuesday, March 14, 2023 |
| Students who have earned 30 or more credits | Thursday, March 16, 2023 |
| Students who have earned 1-29 credits | Monday, March 20, 2023 |
| PSEO Students who have earned 1 or more credits | Tuesday, March 21, 2023 |
| Current students who have no credits earned | Wednesday, March 22, 2023 |
The Records and Registration office hours are: Monday-Friday 8am-4:30pm.
Email the Records and Registration Office or call us at 507-285-7268 or 800-247-1296 ext. 7268 if you have questions.
---

RCTC HAS GREAT EDUCATIONAL SUPPORT RESOURCES
Career Central
Career Central represents an enhanced partnership between Rochester Community and Technical College and Workforce Development, Inc. (WDI) that provides better services for our students and regional employers!
RCTC provides career counseling through our counselors located on the main campus in the Student Services Building, rooms SS133-143. Career Counseling includes, but is not limited to:
Personal career planning and counseling
Career publications
Career assessments
Course selection
Transfer planning and resources
WDI provides career services to all of our students through their offices located at the RCTC Heintz Center. Career Services include, but are not limited to:
Job postings across the region
Job search skills development
Creating resumes and cover letters
Preparing for interviews
Life skills training
Clothes closet
Young adult services (i.e., career exploration, mentoring, time management)
Students wanting to schedule career services may contact the WDI front desk at 507-292-5152. For help proof reading resumes, students may contact Victoria directly at 507-923-2826.
Computer Lab Services
Instructional computer labs are available to RCTC students using PC and Macintosh computers.  In addition, computers are available for student use in the Library Technology Center (LTC) at the main campus and Student Support Services Program at Heintz Center.  Check out the computer lab website for more information on the campus computer labs or contact the Technology Support Center at 507-536-5555 or via email at tech.help@rctc.edu.
Disability Support Services
Location: Main Campus SS176
Disability support Services serves students with disabilities by providing academic support services to assist them in being successful both inside the classroom, and in achieving their educational goals. Accommodations may include, testing accommodations, sign language interpreting, early registration, the use of adaptive equipment, and alternative versions of textbooks. Services may include referral to local agencies or on-campus programs, advocacy, and special advising. RCTC is in compliance with the provisions of Section 504 of the Rehabilitation Act of 1973 and the Americans with Disabilities Act (ADA).  Prior to requesting academic accommodations, students must provide documentation to the RCTC Disability Support Services office that is relevant and complete enough to establish the existence of a disability, to explain the impact of the disability on one of life's major activities, and to recommend appropriate accommodations in the college setting. Students may contact the Director of Disability Support Services, Travis Kromminga, via email at travis.kromminga@rctc.edu or by phone at 507-280-2968. Location on main campus: SS176. Addition information is available on the webpage
Goddard Library
Location: Main Campus, GL building
Goddard Library acquires and maintains a balanced and up-to-date collection of print and electronic resources that support the mission and curriculum of RCTC. All electronic library resources are available on and off campus with a current star ID and password. The campus library contains wireless laptop networks, an open computer lab, individual and group study spaces, and research assistance. Current library services and hours are available on the Goddard Library website.
Student Support Services/TRiO (SSS)
Location: Main campus, SS159
Student Support Services provides academic advising, transfer planning, career information, workshops, cultural activities, and one-to-one peer tutoring to eligible students.  To be eligible for services, students must meet one of the following criteria: first-generation college student, low-income status or documented disability.  Contact (507) 285-7230 or visit the SSS website to learn more
Tutoring Services
The Learning Center provides FREE tutoring for all RCTC and WSU-R students to help them build the skills and confidence needed to be successful in their coursework and reach their academic goals. Our tutors are specialists in their content areas and are eager to help you.
We have two locations:
The Writing Center is located in Goddard Library
The Math, Science, and Computer tutors are located on the third floor of the Atrium building
We have a variety of in-person and online services. We have a variety of in-person and online services. Click on the subjects below for more information on each subject area and to request help from one of our tutors. Visit the website to learn more information on each subject area and to request help from one of our tutors.
Spring Semester 2023 Hours
In person tutoring hours are:
| | | | | | |
| --- | --- | --- | --- | --- | --- |
| | Monday | Tuesday | Wednesday | Thursday | Friday |
| Writing | 9am – 6pm | 9am – 4:30pm | 9am – 6pm | 9am – 5pm | 9am – 3pm |
| Science | 9am – 6pm | 9am – 6pm | 9am – 6pm | 9am – 6pm | 9am – 5pm |
| Math | 8am – 6pm | 8am – 7pm | 8am – 7pm | 8am – 7pm | 8am – 4:30pm |
| Computer Science | 10am – 4pm | 10am – 4pm | 10am – 4pm | 10am – 4pm | 10am – 4pm |
| Computer Applications | 8am – 4:30pm | 8am – 4:30pm | 8am – 4:30pm | 10am – 6pm | 8am – 4:30pm |
For online tutoring hours, check the appointment schedule calendar for each area.
---
Graduation candidates must apply for graduation no later than the 30th day of the semester in which they will graduate. Graduation awards will be granted at the end of the fall and spring semesters, and summer sessions. For example, if classes start January 8th, the graduation application time frame is 30 days after January 8th, if you are planning to graduate in the spring. Applications that are received after a term has concluded will be processed for the subsequent term – degree notations will not be back-dated to a term that has ended for any reason.
Graduation Application Deadline
Summer 2023 Graduation – March 21, 2023 Deadline
Application Instructions
Click on the application link above.
Fill out the forms online, then print them.
Sign the forms.
Print your DARS audit and review it for accuracy and completeness.
Attach an ACCURATE DARS auditto the application.
Submit Application Forms To:
RCTC Welcome and One Stop Center
851 30th Avenue SE
Rochester, MN 55904
Note that incomplete applications will be returned to the student for completion before being processed.
For technical assistance, please contact amanda.proper@rctc.edu.
---
Are you a student parent? Do you need help finding resources to help balance parenthood and make sure your child is on track?
Well, good news! Student Government made an event specifically for you! This Saturday, March 25th at 11am in the Main Campus Cafeteria, we will be holding a Student Parent Event! At this event, we will have booklets with lists on resources for child and family services, employment, financial assistance, housing assistance, and many more. Other resources will be available to you at the event such as the Imagination library by Dolly Parton! A representative from Imagination Library will be there with information and registration information to sign up for their book program. This program sends a children's book monthly straight to your door until your child's 5th birthday completely FREE! Help Me Grow MN has provided us with reusable bags that contain milestone tracking for your child's development. There will be two speakers focusing on strategies to help manage anxiety in children and responsive parenting. Not to mention activity tables if you choose to bring your little ones! There will be a story time, arts and crafts, and even balloon animals! We will also be providing a pizza lunch for you and your children. If you are interested, please click on the link below to RSVP and learn more about our speakers.
---
Rochester Community and Technical College is proud to recognize Ruth Casper as the College's 2023 Outstanding Educator Award. Instructors were nominated by faculty, students, and staff, and completed an extensive portfolio of their work and accomplishments at RCTC to be considered for the award. RCTC will celebrate these remarkable faculty at a reception on Wednesday April 26 from 2-3pm in Coffman Building, room CF 206-208.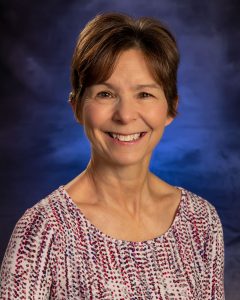 Outstanding Educator
Dr. Ruth Casper has taught in the Psychology Department since 1996.  During her tenure at RCTC, she has become known as an instructor who genuinely puts her students first.  It is a common occurrence to see students coming to her office for either help or just a compassionate ear.  She also serves as the Faculty Liaison for the Faculty Professional Development Committee, Co-Chairs the Compassion Committee, and is the Faculty Liaison for our Assessment of Student Learning Committee. Dr. Casper has a Ph.D. in Social Psychology from the University of Nebraska, as master's degree in Clinical Psychology and bachelor's degree in Psychology and Communication from Fort Hays State University.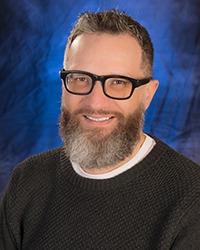 Outstanding Adjunct Educator
Along with recognizing an outstanding full-time faculty member, RCTC also recognizes and appreciates the great educational experience the College's adjunct faculty offer.  This year's Adjunct Faculty of the Year is Aaron Shannon.  Aaron is an accomplished recording engineer, producer, and musician with over 17 years of experience in Nashville, TN.  He has worked in the Music Department at RCTC since 2016. Aaron earned a bachelor's degree in Recording Technology from the University of Wisconsin Oshkosh and a master's degree in Music Technology from Indiana University Purdue University Indianapolis.  Additionally, Aaron is an RCTC alumnus attending from 1992-1994.
op of page