Jesse Pflaum always thought about going to college to learn a trade, but life's responsibilities kept coming. After he graduated from high school he started working full-time and there just wasn't the time to continue his education.
Fourteen years after graduating high school, Jesse and his wife Alexis welcomed their first child into the world. Jesse's determination to work harder grew exponentially to provide for his son. Despite this drive, life threw a huge wrench at his plans, Jesse was furloughed from his long-time job in the spring of 2020. His furlough deadline kept getting pushed further back. Rather than this situation pushing him further into wondering "what if." Jesse saw this as a step forward.
"He saw this huge step back as a new opportunity to step forward in a new direction" said Alexis.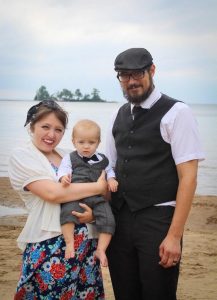 Jesse decided to act on that long-time dream to learn a trade. With the support of Alexis—a National Guards-person and RCTC alumna–Jesse applied and enrolled in RCTC's welding program.
Life has not made it easy for Jesse to go back to school. Alexis is working multiple jobs, and she contracted COVID-19 the second day of fall semester—the second day of school for Jesse. While in quarantine, Jesse was able to complete most of the classwork online and caught up with the "hands on" part of his classes once he was able to return to class.
Prior to August 24, 2020, Jesse had not been in a classroom in more than 15 years. He admits that adjusting to student life was hard at first. "Once I got into a routine, studying and learning came back to me."
While life hasn't made this path easy, Jesse doesn't regret it. "The furlough was the push I needed to take action on creating a bright future for myself and my family."
If you're considering going back to school, Jesse advises you to do so.
"Don't put off going to school until later. Just go for it."