New RCTC students must complete the below steps prior to receiving an advising appointment.  Please read through the steps carefully, as the process is different for summer and fall students.
FALL 2022 STUDENTS ONLY
COMPLETE THRIVE IN THE HIVE D2L ORIENTATION
All new students for fall 2022 must complete the new student Orientation course through D2L (Desire 2 Learn/Brightspace) called Thrive in the Hive.  Admitted students are automatically enrolled in the course.  Steps 1, 2, 3, and 4 must be completed prior to placement testing (if applicable) AND receiving an advising/registration appointment.
To access Thrive in the Hive, click on this link: D2L Login. If you cannot see the THRIVE IN THE HIVE banner, please contact the Welcome and One Stop Center at 507-285-7557 or email onestop@rctc.edu.
SUMMER 2022 STUDENTS ONLY
VIEW THE ORIENTATION VIDEO- SUMMER ONLY

COMPLETE THE ORIENTATION WORKSHEET- SUMMER ONLY
Summer 2022 students MUST submit the orientation worksheet prior to further communication about your placement and/or registration.  Information will be emailed to your personal email address within 3 business (working) days of the completed orientation video and worksheet.
REVIEW THE ORIENTATION GUIDE- SUMMER ONLY
Summer 2022 students can download the Orientation guide or view in a web browser.  This guide includes valuable information on Student Services, Financial Aid, Cashier's Office, and other relevant services for student success.

TAKE THE D2L BRIGHTSPACE ONLINE TUTORIAL- SUMMER ONLY
Self Register for the D2L BrightSpace tutorial, a free online class that will prepare you for taking classes, online or in-person at RCTC.
From the D2L BrightSpace homepage, select the RESOURCES dropdown list and choose the Self Registration link.  You will be directed to D2L training resources.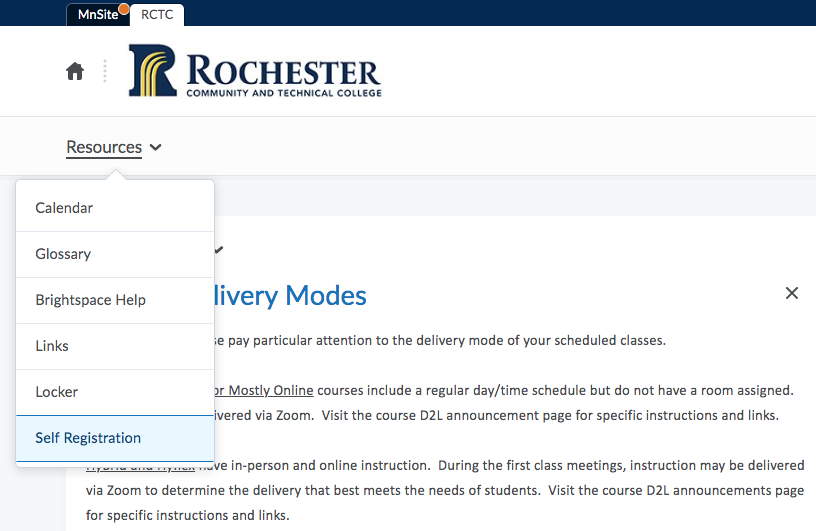 ALL SUMMER AND FALL 2022 STUDENTS
ACTIVATE YOUR STAR ID AND PASSWORD
The StarID is a username with the goal of replacing your many login IDs with one ID, one password, everywhere. Once you activate it, you can use your StarID and password anywhere that accepts StarID. It is unique across the Minnesota State Colleges and Universities system, so you can use it at more than one school.
If you have problems activating or updating your StarID, please email onestop@rctc.edu.
PROVIDE COURSE PLACEMENT MATERIALS
ALL New students need to be evaluated for course placements prior to registering for classes.  Students can submit one or more of the following for placement consideration:
Test Scores:  Students can verify test scores (ACT, SAT, MCA, or ALEKS) pulled out of their portal (unofficial test scores) with a College Transitions Advisor or high school Counselor and send to RCTC. Official ACT or SAT copies are also accepted when a student requests them from ACT or College Board. Test scores are valid for 5 years.
High School Transcript:  Students will need to send a high school transcript to RCTC for placement evaluation. PSEO students do NOT need to submit a duplicate high school transcript.
College Transcript: Students who have completed college-level English and/or Math must have official transcripts sent to RCTC for evaluation.
Previous Accuplacer Scores: Students who completed the English Accuplacer within 5 years or the Math Accuplacer within 2 years can forward a copy of those scores to the Records and Registration office.
ACTIVATE YOUR RCTC STUDENT EMAIL
RCTC-issued email addresses are used for OFFICIAL correspondence.  Access your RCTC email account under Technology Services.