Rochester Community and Technical College (RCTC) and the RCTC Foundation are proud to announce the Bea Family Foundation has committed $100,000 to the RCTC Foundation for scholarships to benefit union and hourly employees at the Kahler Hospitality group.
This generous gift reflects the commitment of the Bea Family and the Kahler Hospitality Group to its employees, especially its union partner UNITE HERE: LOCAL 17. In announcing the gift, Javon D Bea, Board Representative of the Kahler Hospitality Group said, "The Kahler Hospitality Group is committed to providing world-class care and hospitality to our guests. We rely on the professionalism and skill of our employees to deliver an unforgettable experience to our guests—that's why we are proud to partner with Local 17. The Bea Family is proud to invest in Kahler Hospitality Group employees and their families with the gift of scholarships to the RCTC Foundation."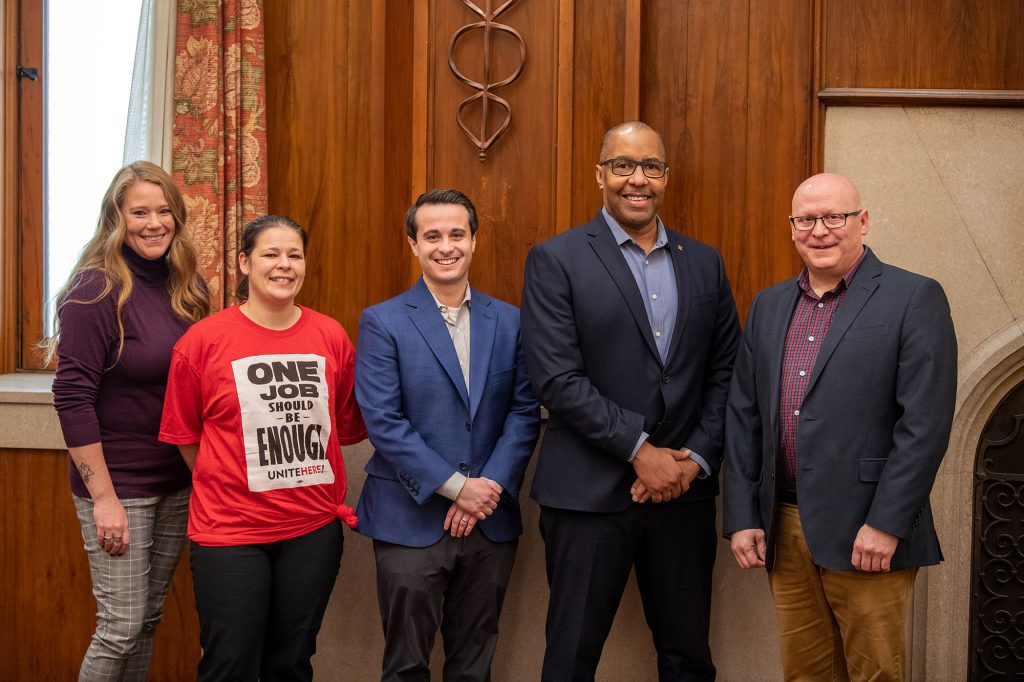 Christa Sarrack, President of Unite HERE Local 17 expressed appreciation for the generosity of the Kahler and the Bea Family noting, "Union 17 is pleased to be in a good working partnership with the Kahler Hospitality Group. The gift of an endowed scholarship is a sign of the Kahler's long-term commitment to a partnership with the union. On behalf of the union, I would like to express my appreciation to the Kahler for assisting union employees and their families to receive a $2,000 scholarship to help them achieve their educational or vocational goals."
"Scholarships to RCTC can be life-changing," said Jeffery Boyd, Ed.D., RCTC President. "For many of our students, a scholarship to RCTC can start a successful career that will provide them with financial stability for themselves and their families. We are incredibly grateful to the Bea Family Foundation and the Kahler Hospitality Group for investing in their employees with a gift of scholarships to the RCTC Foundation."
This $100,000 gift will create two endowed scholarships at the RCTC Foundation to benefit Kahler Hospitality Group employees for generations to come. Applicants for the scholarship can be union or hourly employees, or their guardians, children or grandchildren in good academic standing studying in any program. In its inaugural year, the Bea Family Foundation will offer four $2,000 scholarships for the academic year 2023-2024. In subsequent years, the endowment will provide two $1500 scholarships for Kahler Hospitality Group employees and their families. Scholarship applications will be available from April 7-May 15 at www.rctc.edu/scholarships.
Interested students may begin applying for scholarships beginning on April 7, 2023.  All applications must be completed via the online portal on or before May 15, 2023.  Students in need of assistance with completing the application can attend a virtual scholarship workshop with RCTC Foundation staff. Students can RSVP by emailing foundation@rctc.edu.