The sun most likely hasn't started to shine over Cannon Falls when two RCTC Dental Hygiene students are thinking about teeth, how to clean them, and how to contend with a combined force of nine children about to wake up and begin the chaos of getting ready for school on time. 
"Today. 3:30," Beth Hustad answers when asked what time she was up this particular morning. Most mornings she's not up that early before her five children, but "it depends on how early our nerves wake
us up." 
The "us" she refers to is herself and Jessie Ludden, a childhood friend who, like her, has a busy morning with four kids. And similarly, graduated from the Dental Hygiene program on May 10. 
One day at church the duo decided it was time to go to school, something neither of them had done before. Hustad brought it up, which she thought was surprising since Ludden is the more adventurous of the two.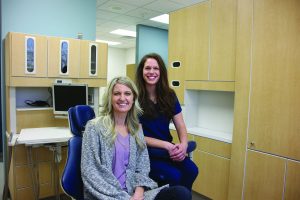 Ludden credits her interest in dental hygiene to when she took her oldest son to the dentist for the first time when he was about two. 
"It just opened my eyes to this profession," she says. "Before then it just really wasn't on my radar for some reason." 
Hustad always went to the dentist every six months. As the oldest of four sisters she says they all have nice teeth and are kind of obsessed with them.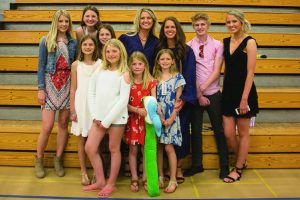 "You can't really pick a better career when you have a family," she adds. 
Even with the ambition and new route planned, their first foray into researching the program didn't pan out. 
"We went to Argosy (University) in Eagan, Minn., first, and we were just like, 'Oh my gosh.' Because the price was unreal. Unreal," Hustad recalls.  
"At that point I'm like, 'there's no way I can afford to go to college," Ludden adds. 
They found Rochester Community and Technical College, meeting with RCTC academic advisor Eric Sime. 
"He was crucial in helping us map out our journeys," Ludden explains. 
What came next was challenging. Both students always wanted to have large families, and to be able to stay at home and raise them. 
"We knew we wanted to get married and have great families," Hustad says. 
Adding class on top of that life proved challenging. 
They found some solace in the one-hour drive to school. They could talk about the kids, figure out who was taking which kids to which sports practice, study, or just catch up. 
For Ludden, who at 18 had no idea what she wanted to do if she were to go to college, what seemed insurmountable at first ended up making sense. 
"I know what has to be done and [I] get it done," Ludden says. "I'm a dedicated student now. I don't think I would have been that at 18. The disadvantage is now there's a lot more on your plate." 
"Our kids are all in sports," said Hustad.
"You're just balancing so many more schedules," Ludden piggybacks. 
"We'll just say it's just not easy, we'll put it that way," Hustad finishes.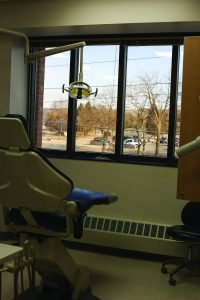 Hustad estimates she takes her car up and down her road at least 10 times a day, bringing different kids to volleyball while somehow trying to find time to study. 
"You shouldn't compare yourself to other students in your class, but it is hard," Hustad says. "A disadvantage is comparing yourself." 
"To be in the Dental Hygiene program you have to work hard to get there," Ludden, who is also a 4.0 student, says. "We're all good students in that sense that we work hard. It's hard work. I feel prepared to go out and be a dental hygienist." 
"The advantage of our class is you can't really get lazy," Hustad says. 
With school over it's time for new adventures to be planned, but also time to find a return to form. 
"They're just as ready as we are to be done," Hustad says of their children. 
"We hope our kids are inspired by this, but I do think it has kind of taken a toll on them. I hope it inspires my kids to be committed to what they choose to do, and know that it's going to get hard but they have to push through it," Ludden says. 
"And really, in a sense, they are pushing through it," Hustad continues. "It isn't easy," she adds, commenting that she is about to tear up. 
Ludden has some job offers.  
"I'm kind of forced to look at those opportunities earlier than I planned, but I definitely don't think full-time right away for me is what I want right now," she says. 
"As weird as it sounds, we need to get things back on track," Hustad says. "Family, is what I'm talking about. There's no norm right now." 
"We have to figure out what are new norm is going to be," Ludden drives home. 
That's not a bad thing. From concocting the plan to go back to school in church to graduation, RCTC has helped both students write another chapter of their lives. 
"I love the program. I love school. I love when I'm here. They really guide you and set you up and help you. It's just the challenge comes with trying to balance out your home life and school life," Ludden says. 
"They're just so freaking smart," Hustad laughs when talking about how advisors want you to succeed. 
"And now we did it and here we are," Ludden says. 
And if a 38- and 39-year-old can do it – both with busy family lives – Ludden says just about anyone can. 
"It's not going to be easy, but it's going to be doable," she says.