RCTC students have gone on to amazing careers. Whether it's creating a podcast about the misadventures of bounty hunters in space, or setting up lighting for Oprah Winfrey, RCTC grads are fully immersed in their craft and careers. But don't just take our word for it.
JASON ARHELGER CLASS OF 2009
Jason Arhelger was a liberal arts and sciences major, mostly attending RCTC for general classes before moving on to McNally Smith College of Music in St. Paul.
"It was a great time; I really enjoyed RCTC," the Rochester-native said. "It was nice to be able to go home every day and still live at home with my parents, and save money that way. A bunch of my friends from school and work all went to RCTC."
Arhelger went to McNally to earn his degree in Recording Arts and now has a fascinating career within the music world as a lighting technician, and even owns his own business, Jason A Productions.
"My first tour with Upstaging (the company he does lighting for) was for Oprah Winfrey," Arhelger said. "She did a three-month long motivational speaking tour. From there, I spent 19 months on the road all over the world with AC/DC, and then Guns N' Roses, Radiohead. I finished last year with Janet Jackson, and currently will be going back with Radiohead (he's flying to South America for a tour).
If that wasn't cool enough for a music fan, he's even met some people from different bands he's worked for.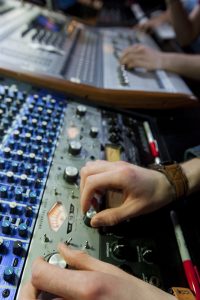 TRISTAN MILLER CLASS OF 2010
Tristin Miller makes his living through various means. He's a podcaster, an actor, and a stand-up comedian.
He first began studying at RCTC during his senior year of high school as a Post-Secondary Enrollment Option student (PSEO). It was an eye-opening experience.
"What was really wonderful was the staff was very much aware… they had such a wide mix of people and treated everyone equally," Miller said, whether that was him or a 35-year-old non-traditional student.
One instructor in particular who helped him grow immensely was theatre instructor Jerry Casper. "He is definitely one of (the), or the best, acting teachers I've ever head," Miller said. "His program at RCTC is incredible… and growth oriented, where a lot of acting programs aren't. He had a good idea of the growth you had as an individual artist instead of some mark in his head that every student needed to be at."
After RCTC Miller attended the New York Conservatory for Dramatic Arts, studying acting for two years, and getting the chance to feel like he was working in the industry.
A production company he formed with another Rochester-native in 2011 had laid dormant before he decided to start publishing podcasts under the label.
He chose podcasts after being diagnosed with bipolar disorder.
"I wanted a platform to talk about that," he said. "I realized how fun and attainable podcasting is. Through this production company, I started producing four other podcasts."
Miller has also been working on short films and assisting in directing a Shakespeare play. Last year he performed 100 shows as a stand-up comedian.
BRIANT FRUTH CLASS OF 2008
Fruth earned an Associate of Arts degree at RCTC.
"My experience at RCTC was amazing," Fruth said. "Being a father at the age of 17, attending RCTC made it possible to attend school full time while also working to pay for my education as well as support my family. The affordable rates, the proximity to my home, and flexible scheduling (including evening courses, hybrid, and online courses) made attending college a reality when my circumstances made the possibility seem bleak."
Fruth went on to earn a bachelor's degree in mathematics, mathematics education, and a minor in statistics at Winona State University.
"Finishing my associates degree at RCTC made this transition extremely simple as Winona State University recognized the degree as a successful completion of my general education courses, and I was able to transfer directly into the Mathematics Education program," Fruth explained.
After the successful stints in college, Fruth found a job at the Mayo Clinic in the Health Sciences Research department as a statistical programmer analyst.
"I work in Cancer Center Statistics providing statistical support for a number of clinical trials."
RCTC's impact on his career and life can't be understated.
  "I think there are people who see RCTC as a stepping stone to the next thing," he began. "I did not see it this way. I believe the quality of instruction as well as the depth and breadth of the knowledge I gained at RCTC was equivalent to that of Winona State University. The instructors were second to none, went above and beyond, and provided me benefits to my education outside of the classroom.
"One instructor secured grant funding for me to attend the annual Mathematics conference in Duluth (Minnesota Council of Teachers of Mathematics). I attended this conference through RCTC even after I had graduated and transferred to Winona State."
HEATHER SIMENSON CLASS OF 2007
Money was a priority for Simenson after high school. More specifically, saving it.
"I attended RCTC following high school," Simenson said. "I chose this route because I wanted to save some money before going to a four-year university and take some classes to see what career I was interested in pursuing. This path worked great for me."
While at RCTC, Heather was able to work in the admissions office and tutoring center.   
"I enjoyed tutoring because I really got to know and understand the material I was helping other students with, and I was also able to use the tutoring class when calculus became difficult for me," she said.
After earning an associate's degree, Heather transferred to the University of Minnesota to study in the Neuroscience program. Now she's the manager of data analytics for VivaQuant, a medical device and software company.
"It is a small company, so I do many things, primarily ECG (electrocardiogram) analysis and interpretation," she explained.
Taking science and math at RCTC certainly helped her get to where she currently is.
"They (instructors) helped me discover my love for neuroscience, consider science as a career, and provided support when things were really difficult. They truly care about their students."
MATT DENEEN CLASS OF 2017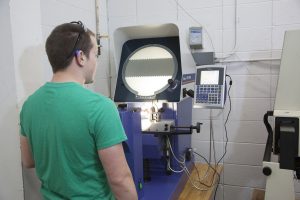 Deneen began his college career at Dakota County Technical College pursuing nanoscience before realizing his strengths were engineering and design. He made the switch to RCTC, studying computer aided drafting and precision machining.
"My time at RCTC was very enjoyable," he recalled. "My first year was almost entirely devoted to classes. As I was taking 28-30 credits per semester to complete the PMT (Precision Manufacturing Technology) program and the first year of CAD (Computer Aided Drafting). My second year at RCTC I was more involved with the college. I became the Student Senate Treasurer and President of the CAD club."
After earning his associates degree, Deneen took a job with Black Forest Ltd., and is taking more classes at Saint Mary's University to earn a Bachelors in Business Administration and eventually a Masters in Project Management.
At Black Forest, a company that creates corporate recognition jewelry, like rings or lapel pins, he works as a CNC Programmer and Operator.
"The education I received at RCTC has allowed me to take on a challenging job straight from graduation, while also setting me up to pursue my dreams of further education." Deneen said.
VEE WOJTKIEWICZ CLASS OF 2017
"My time at RCTC has been great," Wojtkiewicz says. "I have met and learned from some amazing professors that truly enjoy teaching. I have had my ups and downs just like any student, but these experiences have made me very humble."
Wojtkiewicz has worked as an LPN in an ambulatory clinic and Mayo Clinic, and is planning on moving into an RN role, "chasing my dreams," she says.
"I'm also a wife and mommy to three amazing children, aged 14 to 3 years old. Mommies can do school, and work, and still raise a family. I have the best support team and my husband is behind me 100 percent, which makes it possible for me.
Currently, Wojtkiewicz works in an outpatient clinic at Mayo.
"Being an RCTC graduate has given new grads a perk at Mayo Clinic," she says. "We are very blessed to have clinical and learn from the number one medical hospital. The clinicals at Mayo Clinic can structure new grads into becoming a part of what makes the hospital the best. Some colleges don't get the exposure to the material, knowledge, and hands-on experience we do as RCTC students. We know the policies and procedures; it gives us RCTC grads a (leg) up when applying for jobs."