The RCTC Foundation is pleased to acknowledge our benefactors in the Honor Roll of Donors* who supported the College. We gratefully honor you, our loyal alumni, friends, faculty, and staff for your generous spirit. Your commitment helps us to improve the lives of our students with investments in academic quality, providing for students basic needs, and scholarships.
President's Club ($5,000+)
Dr. Peter and Dr. Bari Ann Amadio
Dr. Thomas and Shawna Hamburgen
Dr. Richard and Patricia Geier
Donna Grever
Roy Hoffman
Paula Kath
Dr. Joe Tashjian and Kay Savik
Mary and Todd Schwanke
Jan Streiff Estate
Dr. Christopher Tashjian
Mark Trisko
Stewardship Club ($1,000-$4,999)
Jeannie Anderson
Nicholas Bowman
Dr. Jeffery and Carolyn Boyd
Brenda Dicken
Allen and Marcia Dollerschell
Alan and Amy Flickinger
Lynn Flickinger and Stephen Hanna
Michelle Flickinger
Robin and Rebecca Lee Flickinger
Charles and Iris Fried
Linda and Leon Gregg
Charles Harper
Judy and David Harris
Debbie Helgerson
Rebecca Hill and Jevan Loshbough
Dennis Hoffman
Ginger and David Holmes
Robert and Ancy Morse
Patrick and Janet Gannon
Bill Rehm Estate
Richard and Joanne Rosener
James and Priscilla Russell
Dawn Saterdalen
Ione Schloegel
Jean Schnelle
Lawrence and Mary Schwanke
Dean and Julie Stenehjem
Paul and Joni Styve
Don and Stephanie Supalla
Stanimir and Zvezdana Vuk-Pavlovic
Dean's Club ($500-$999)
Martha Batzner
Thomas Brinkman
Don Baldus
Randy Erdmann
Robert and Cindy Groettum
Leonard and Phyllis Jansen Estate
Tony Joseph
Judy and Gary Kingsbury
Phillip Low
Jean and Roger Marconett
Stephen Nigon
Irvin and Maureen Plitzuweit
Eric Porcher
Michelle and Todd Pyfferoen
Jared Stejskal
Peggy Vevang and Ron Dickie
College Club ($200-$499)
David Atwood
Patrick Bartholomew
Janet and Wayne Bartz
Michael and Melanie Berg
Matt Bissonette
Jeff Britton
Teresa Brown
Eric Buss
Daniel and Julie Caesar
Patricia Clancy
Annie Clement
Patricia Clancy
Michelle Decker
Patrick Farrell
Kim Ferraro
Coralie Fiegel
Lori and Mark Halverson-Wente
Judy Haugen
Frank and Linda Iossi
Jason Jadin
Donald Johnson
Tammy and Dwayne Lee
Rebecca Macken
Jamie Mahlberg
Kristin Mannix
Mike Mutschelknaus
Jason Nelson
Stephen Nelson
Roger and Maggie Nolte
Judith Pease
Mir Qader
Marj and Donald Reif
Robert and Cheryl Roediger
Katherine Rogers
Darrell Sandeen
Curtis and Kim Schumacher
Shantelle Speedling
Ellen Stelling
Christopher Thesing
Stephen Troutman
Deb Vang
James Watson
Molly Williamson
Doug and Terry Wilsie
Karin Wright
Loren and Lucile Weisbrod
Peter Wruck
Centennial Club ($100-$199)
Emily C. Anderson
Gail Anderson
Simona Baias
Robert and Phylllis Beery
Jason Bonde
Donald Borcherding
Virginia and Kirk Boyum
Brett Buss
Christy Caine
Jane and Mark Callahan
Deborah Cannon
Ruth and Jerry Casper
Colleen and Scott Arnold
Marcia and Clifton Connelly
Teresa DeWitt
Atef and Joely Dimian
Heather Donovan
Stuart and Diana Eickelberg
Nickolas Eickhoff
Sharon Elcombe
Brenda and William Frame
Daniel Froelich
Daniel Funk
Nancy Gilliland
Benjamin Hain
Robert Half
Jane Hallman
Julie Harris
Patricia Horst
Keith House
Phyllis Jacobs
Carol and Rueben Kamper
Nancy Kampmeier
Lois Kennel
Peggy Kuiper
Alex Lair
Rob Landgraf
Colleen and Daniel Landherr-Maddox
Bradley and Christie LaPlante
Ann Lien
Jamie Lund
Jeff Marshall
Leslie Matthias
Heather McEldowney
Jenee and Shep McGurren
Jason and Daniela Meier
Walter Menning
Kay Morcomb
Marilyn Morem
Elsie Myers Martin
Sharon and William Nichols
Robert Nowicki
Brennan O'Connor
Thomas and Mary Ostrom
Donald Ott
Theresa Pfeilsticker
Cody Pogalz
Janet Rantala
Helen Restovich
Opal Richards
Anthony Rostvold
Devin Rubin
Peter and Cynthia Sandberg
Signe Schmelzer
Kenneth Simurdiak
Elson So
Kenneth and Gwen Stevens
Bruce and Paulette Teigen
Karen Vinje
Ronald Yaggy
Friends of RCTC (Up to $100)
Keri Babcock
William Bakken
Bill Bean
Josh Bendickson
Deborah and Robert Bendzick
Alice Benedett
Pam Benson
Marilyn Kocer
Jamie Bjerke
Nancy Brubaker
Kathryn Burch
Michael Burns
Melanie Callister
Carolyn Chaapel
Angie Chafos
Cy and Cheryl Champa
Eva Colligan
Genell Cummings
Kathy Davis
Petina Dixon
Quintin Dykes
Bradey Bearden
Cathy Ellstrom
Frances Field
Jade Finstad
Karen Fredin
Dave Gilbertson
Raymond Goldstein
Erik Goodmanson
Jacob Griggs
Pamela Haase
Tara and Joel Hammill
Beverly Hanson
Victoria Hennessey
Sandra Hillesheim
Susan Hommerding
Chad and Elizabeth Israelson
Theresa and Steven Iverson
Kathy Jacobson
Dean and Mary Johnson
Betsy and Dan Kennedy
Jenifer Kiehne
Joe and Marilyn Kocer
Richard Kowels
Janet Kuchera
Sharon Lager
Diana Long
Patricia Mann
Ilka Marsh
Nancy Matthews
Sharon Melvin
Michelle Messenger-Herber
Karen Moen
Nancy Nixa
Allan and Shaune O'Bryan
Patricia O'Connell
Tricia Olinger
ViAnn Olson
Allison Passon
Rebecca Peine
James Pfeilsticker
Chrisanne Pieper
Kelly Pyfferoen
Ren and Grace Olive
Patrick Rian
Leigha Rios
Roxy and Steve Roadway
Bill Roeber
Megan Tate
Kimberly Rowley
Heather Ruffin
Berny and Nina Saletel
Roger and Kimberly Schipper
Deb and Bob Schloegel
David and Mary Schrandt
Daryl and Katherine Schulz
Diane and J. L. Schwinghammer
Brendan Shea
Eric Sime
Anne Skonieczny
Cathleen Sparks
Donna Stewart
Nate Stoltman
Steven Strauss
Elizabeth Swanson
Sylvia Swede
Katie and Jeff Swegarden
Cynthia Swessel-Hofer
Suzanne Szucs
Marilyn and Thomas Theismann
Sandra Tschida
Deborah Turner
Randy Wendt
William and Nancy Mayhew
Joyce Wood
Alicia Zeone
President's Club ($5,000+)
Family Dentist Tree
Mayo Clinic
Rochester Area Foundation
Rochester Endodontics
Southern Minnesota Initiative Foundation
Voiture 327
Warren Skaaren Charitable Trust
Stewardship Club ($1,000-$4,999)
American Business Women's Association
American Society of Heating, Refrigerating and Air Conditioning Engineers (ASHRAE)
City of Red Wing
Collins Orthodontics
Community Dental Care
First Alliance Credit Union
John Miller Excavating
Main Street Dental Clinics
Mayo Foundation
Med City Animal Hospital
Merchants Bank
MVM Foundation
Olmsted Medical Center
ONB
Owatonna Foundation
People State Bank
Premier Bank
RCTC
RCTC Nursing Department
Rochester Exchange Club
Ryan Windows & Siding
The Chicago Community Foundation on behalf of Compeer Financial
Think Bank
VCA Animal Medical Center & Inn
WNB Financial
Zumbro Valley Dental Society
Zumbro Valley Medical Society Alliance
Dean's Club ($500-$999)
Bank of Zumbrota
Cabane Locale
Coulee Bank
Echelon Wealth Partners
Fidelity Charitable
First Security Bank
Jimmy's Salad Dressings & Dips
Mike Macken Plumbing LLC
Minnesota Lakes Dental, P.L.L.C.
Northern Valley Animal Clinic
OR-LE Foundation
Park Dental Foundation
PEO Sisterhood Chapter BM
Pine Island Bank
River Town Dental
Rochester Police Benevolent Association
Rochester Sunrisers Kiwanis
Shades of Green Hosta Society
West Bank
Widseth
College Club ($200-$499)
City of Preston
Custom Alarm/Custom Communications
Driessen Water Inc.
Mary Ann's Floral
McGough Construction
Med City Painting
Rochester Motor Cars
Rochester Public Schools
S&S Overhead Door
Stewie Brothers Inc.
The Body Shop
Thrivent
Centennial Club ($100-$199)
Academy of our Lady of Lourdes
Eden Garden Club
Friends of RCTC (Up to $100)
RCTC English Department
Stifel Nicolaus
Carol Aylsworth
BD Medical
Gregory Challener
Dodge County Sherriff's Office
Allen and Bernice Husebey
Lawrence Kleppe
Jesse and Beth Lamsam
Carrie Rueb
Gifts of Tribute--In Memory
In memory of Alfred Sandeen
Darrell Sandeen
In memory of Alice and Harry Tashjian
Dr. Christopher Tashjian Dr. Joe Tashjian and Kay Savik
In memory of Allen Graves
The Siems Family
In memory of Bess Quimby
The Siems Family
In memory of Brian Tyrrell
Ruth Casper
In memory of Connie Rehm
Bill Rehm Estate
In memory of Craig Knox
Allen and Marcia Dollerschell
Don and Stephanie Supalla
Jenee and Shep McGurren
In memory of Dale Honsey
Jenee and Shep McGurren
In memory of Doris Underdahl
Don and Stephanie Supalla
In memory of Duane Klein
The Siems Family
In memory of Emily Porcher
Eric Porcher
In memory of Everett Carr
Jenee and Shep McGurren
In memory of Gary Schaefer
Roxy Roadway
In memory of Jack Lenentz
Jenee and Shep McGurren
In memory of Jan Streiff
Diana Long
In memory of Jane Flickinger
Alan and Amy Flickinger
Lynn Flickinger and Stephen Hanna
Michelle Flickinger
Robin and Rebecca Lee Flickinger
Elsie Martin
Dawn Saterdalen
In memory of Jennifer Garness
Melanie Callister
Lori and Mark Halvorson-Wente
Jenee and Shep McGurren
Roxy Roadway
In memory of Jerry Asleson
Jenee and Shep McGurren
Don and Stephanie Supalla
In memory of Jim Sobek
Jenee and Shep McGurren
In memory of Karen Geier
Dr. Richard and Patricia Geier
In memory of Kenneth McGhie
Jean Schnelle
In memory of Kerry Nolte
Eva Colligan
Joe Kocer
Marilyn Birkel Kocer
Ann Lien
Roger and Maggie Nolte
In memory of Larry Tentis
Jenee and Shep McGurren
In memory of Linda Morgan
Jenee and Shep McGurren
In memory of Lois Ranfranz
Roxy Roadway
In memory of Luther Ulrich
Cy Champa
Irvin Plitzuweit
In memory of Mark Bissonette
Michelle Pyfferoen
Kristin Mannix
Heather McEldowney
Tammy Lee
In memory of Michael O'Connell
Patricia O'Connell
In memory of Micki Paul
Melanie Callister
In memory of Morris Truman Tweeten
Melanie Callister
Roxy Roadway
Annie Clement
Jennifer Kiehne
In memory of Rick Stelling
Ellen Stelling
In memory of Ricky Sweet
Jenee and Shep McGurren
In memory of Rodney Deer
Alicia Zeone
In memory of Stacey York
Pam Benson
Virginia Boyum
Ruth Casper
Marcia Connelly
Daniel Froelich
Tara Hammill
Dennis Hoffman
Jason Jadin
Tammy Lee
Jeff Marshall
Jenee and Shep McGurren
Anthony Rostvold
Don and Stephanie Supalla
Cathy Sparks
Jeff and Brenda Marshall
In memory of Terri Grose
Roxy Roadway
In memory of Warren Skaaren
Warren Skaaren Charitable Trust
In memory of Al Bina
Jay Lee
Don Supalla
Cicilia Tjoefat
In memory of Bradley Eid
Jenee McGurren
In memory of Brett Styve
Paul Styve
In memory of Brian Shandley
Ryan Window and Siding
John Miller Excavating
In memory of Brittany Bradford
Robert Bendzick
Deborah Bendzick
In memory of Doris Troutman
Janet Bartz
In memory of Duane Reding
The Siems Family
In memory of Jan Buss
Charles Harper
Jason Jadin
James Watson
Leigha Ross
Anne Skonieczny
Phillip Low
Jeff Britton
Bret Buss
Eric Buss
Randy Erdmann
Katherine Rogers
Devon Rubin
Raymond Goldstein
In memory of Jan Streiff
Christy Cane
Estate of Jan Streiff
In memory of Jerry Asleson
Jenee McGurren
Don Supalla
In memory of Shirley Stahl
Annie Clement
Gifts of Tribute--In Honor
In honor of Joyce Gibbs
Lois Kennel
In honor of Pat Lund
Jamie Lund
In honor of Ms Szablisklee
Stanimir and Zvezdana Vuk-Pavlovic
Estate Gifts
The RCTC Foundation would especially like to recognize those who have made a gift to support RCTC through their estate. These gifts are a tribute to their commitment to education and leave an enduring legacy at RCTC.
Leonard Jansen to endow the Leonard and Phyllis Jansen Scholarship for students studying social sciences and transferring to a four-year institution.
 Bill Rehm to endow the Connie Rehm Scholarship for students with MS or other chronic neurological conditions.
 Jan Streiff to honor Walter and Sue Bateman with support for social science programs at RCTC.
RCTC Foundation 2021-2022 Annual Report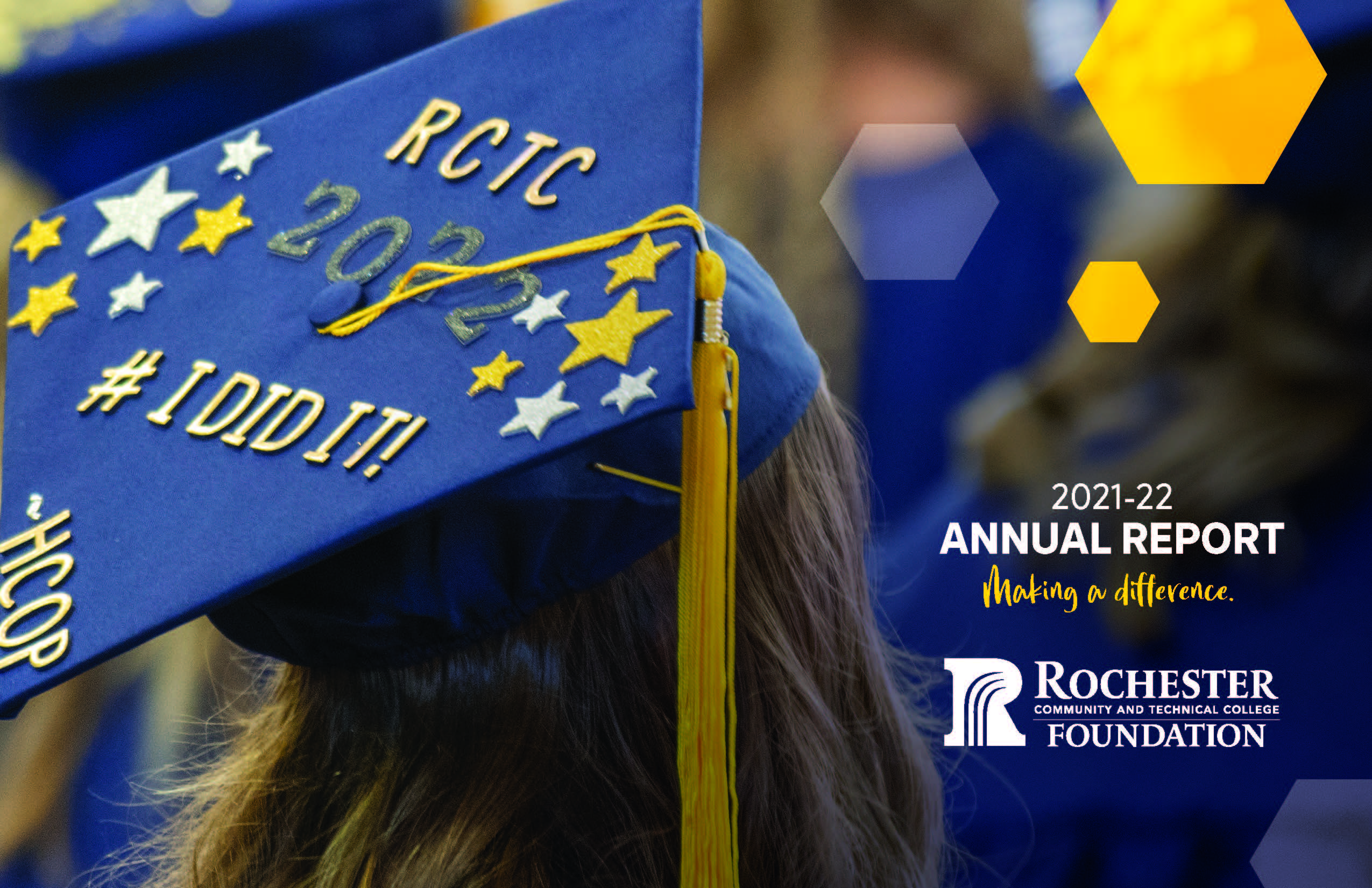 *The honor roll of donors is compiled by the RCTC Foundation Staff. Every effort is made to ensure that this list is accurate and complete. If we have inadvertently omitted, misspelled, or otherwise improperly reported your name or gift, please contact the RCTC Foundation, at 507-281-7771 or foundation@rctc.edu.