Current Exhibition: Student Exhibition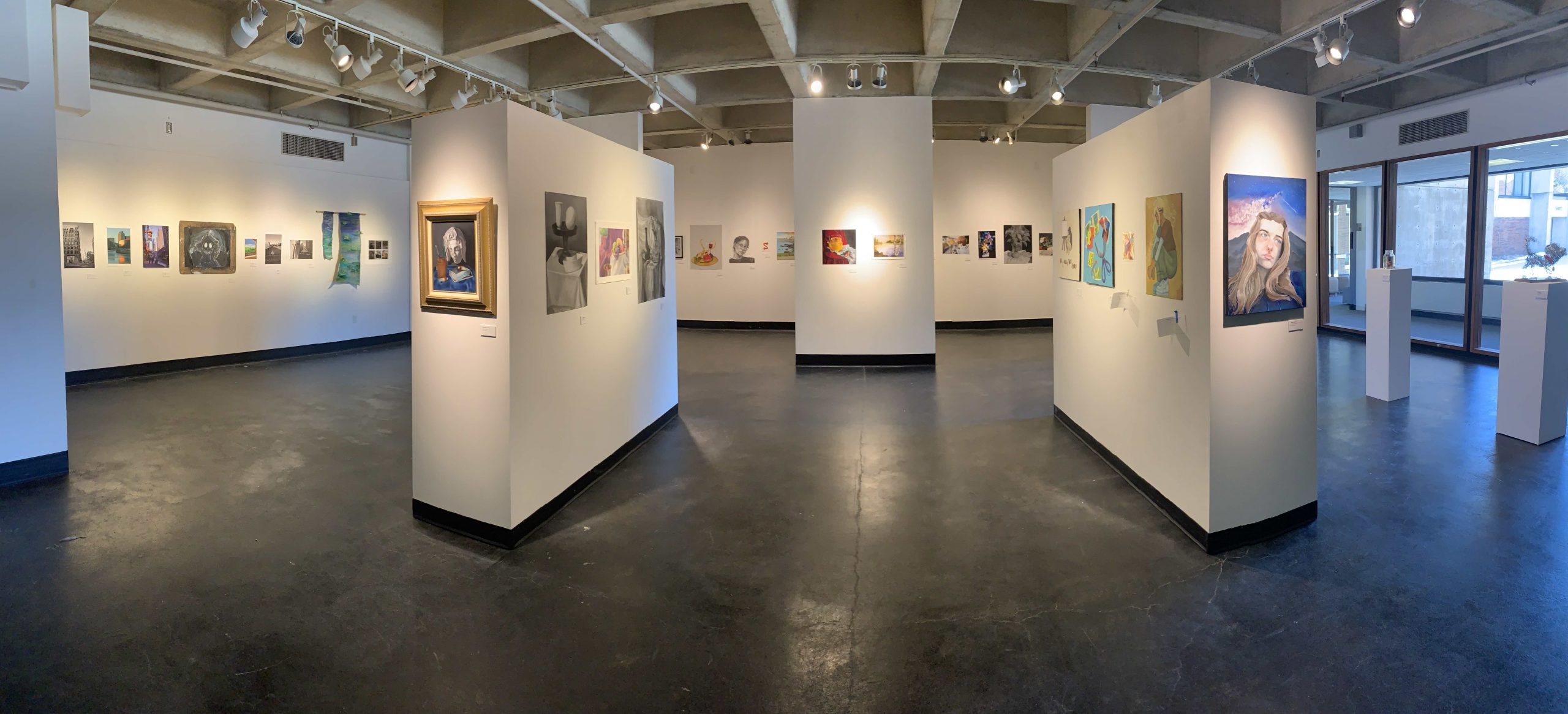 The student show runs from 3/30-4/12. This will be followed by the Art and Design Portfolio exhibition which opens on 4/27 and runs through the end of the semester.
---
Past Exhibitions
Title: Exactly Where I'm At
Artist: Jeffrey Jacobsen
Title: Gold Standard
Artist: Roger Boulay

Artist info:
Roger Boulay is an artist, curator, and educator based in Winona, Minnesota. He has exhibited his work nationally, including solo exhibitions at Augsburg College in Minneapolis, MN, the University of Rochester in Rochester, NY and at Gallery 19 in Chicago, IL. He is the recipient of a 2018 Southeastern Minnesota Artist Council grant and the 2018-19 recipient of the Professional Excellence award at Winona State University.
Exhibition info:
Gold simultaneously represents profound value and pretense, luxury and cheapness, high and low culture, exclusivity and obtainability. These contradictions appear in the materiality of this show. Second-hand, mass-produced paperback novels have almost no value, yet their covers use gold to suggest the opposite. Gold gifs exploit the color's connotations to elevate subject matter that is ridiculous and trivial. Gold is conspicuous. It is a signifier of class, both upper-class exclusivity, and lower-class gaudiness. How much gold is too much?
Equally central to the show is the loop. The gifs are cultural detritus trapped in a never-ending cycle of ironic silliness. The book covers are analogue versions of the looping gifs.  Sculpture is gently swaying to create a three-dimensional gif. To me, the closed loop is the most interesting structural element of contemporary art. Recursive information systems are endemic to many aspects of my daily experience, whether I want them to be or not.
---
Title: Too Hot to Handle
Artist: Zoe Cinel
Artist info:
Zoe Cinel is an interdisciplinary artist and curator working with public art, video art, performance and installation. Originally from Florence, Zoe currently resides in stolen Mni Sota Makoce land where she is the Curator at the Rochester Art Center. Zoe holds a BFA from ISIA Florence and an MFA from the Minneapolis College of Art and Design. Her curatorial and artistic work has been exhibited in venues such as at the Walker Art Center and the Minneapolis Institute of Art. Recipient of several grants including a 2018 Creative City Challenge, Zoe is also part of the artistic collective CarryOn Homes who focuses on highlighting immigrant stories in MN. She has taught at institutions such as Carleton College and the Minneapolis College of Art And Design. Since 2020, she has been involved as an artist in the Discovery Walk project by DMC Rochester.
Exhibition info:
This exhibition features new installations about a very personal experience I have been going through since 2020, when I was diagnosed at 28 years old with RA (Rheumatoid Arthritis)*, an autoimmune inflammatory disease I inherited from my maternal grandmother. In the last year I experienced the fatality of negotiating life with chronic pain, meds and a defeating health care system in a foreign country and during a pandemic. This show is a self portrait and it's process: it's raw, clinical yet intimate. A celebration of the many times I was made way too aware of the existence and the clash of my own cells.
The RCTC Art Gallery:
The RCTC Art Gallery, located in room CC200, features artworks from students, faculty, and visiting artists on a rotating basis. Additionally, many pieces from the RCTC Permanent Collection are on display throughout the campus.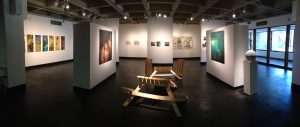 Location
College Center
CC200 (across from the Hill Theatre)
Gallery Hours
9am-4pm
Monday – Friday
Closed Major Holidays
Gallery Director
Crist Dahl
Gallery Director
Office: EA 210
crist.dahl@rctc.edu
The RCTC Gallery is made possible with support from Rochester Community and Technical College Art+Design Department and RCTC Student Life.