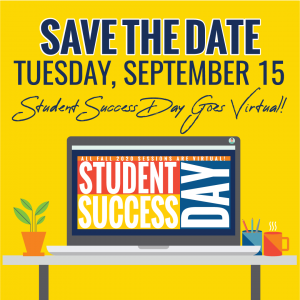 Student Success Day
Student Success Day (SSD) is an opportunity to connect with friends, faculty, and staff while attending sessions designed to help you succeed at RCTC and beyond!​ This year SSD will be held virtually through Zoom.
Student Success Day Schedule
Tuesday, September 15
Program Session One       9:00am to 9:50am
Program Session Two       10:00am to 10:50am
Sex Signals                           11:00am to 12:30pm
Advising Open Session     1:00pm to 4:00pm
Program Session Three    6:00pm to 6:50pm
Program Session Four      7:00pm to 7:50pm
Sex Signals 11:00am to 12:30pm
Sex Signals has become one of the most popular sexual assault prevention programs on college campuses through its unorthodox, humor-facilitated and inclusive approach to examining our culture, sex, and prevention strategies like bystander intervention. The program has been adapted to be facilitated through a live Web based program.

Register Here for Sex Signals
Registration
Students are being asked to register for Student Success Day in order to gain access to the program session booklet and links to the Zoom Webinars. You can register for Student Success Day here.
Program Session Descriptions
Click here for Program Sessions and Descriptions (you must register for SSD in order to receive the Zoom webinar links and pass code).
Advising Open Session
Are you a new student? Do you know who your advisor is? Do you have general questions regarding your program or college in general? Please join us for an open Q & A virtual session.  Advisors will be available in their Zoom Rooms at the times indicated below. To join the session, please click here, find your major, and click on the zoom link.
What Past Attendees Have to Say
"I felt like I was part of something great, and that we are all trying to grasp the same goals to have a better future."

"It made me feel proud to be a student at RCTC. It's nice to see how much the teachers and staff care about the students and how much they want everyone to succeed."

"I am a returning student and I have attended all past student success days. I found every single one of them helpful in making me a better student."

"I enjoyed the different seminars that were held including the ones offered at night! All the ones I chose to listen to really helped me seek out for help, to being confident in making a student group along with making new friends!" 
Contact Information
SSD Committee Chair: Rebecca Peine
E-mail: rebecca.peine@rctc.edu
Phone: 507-285-7195