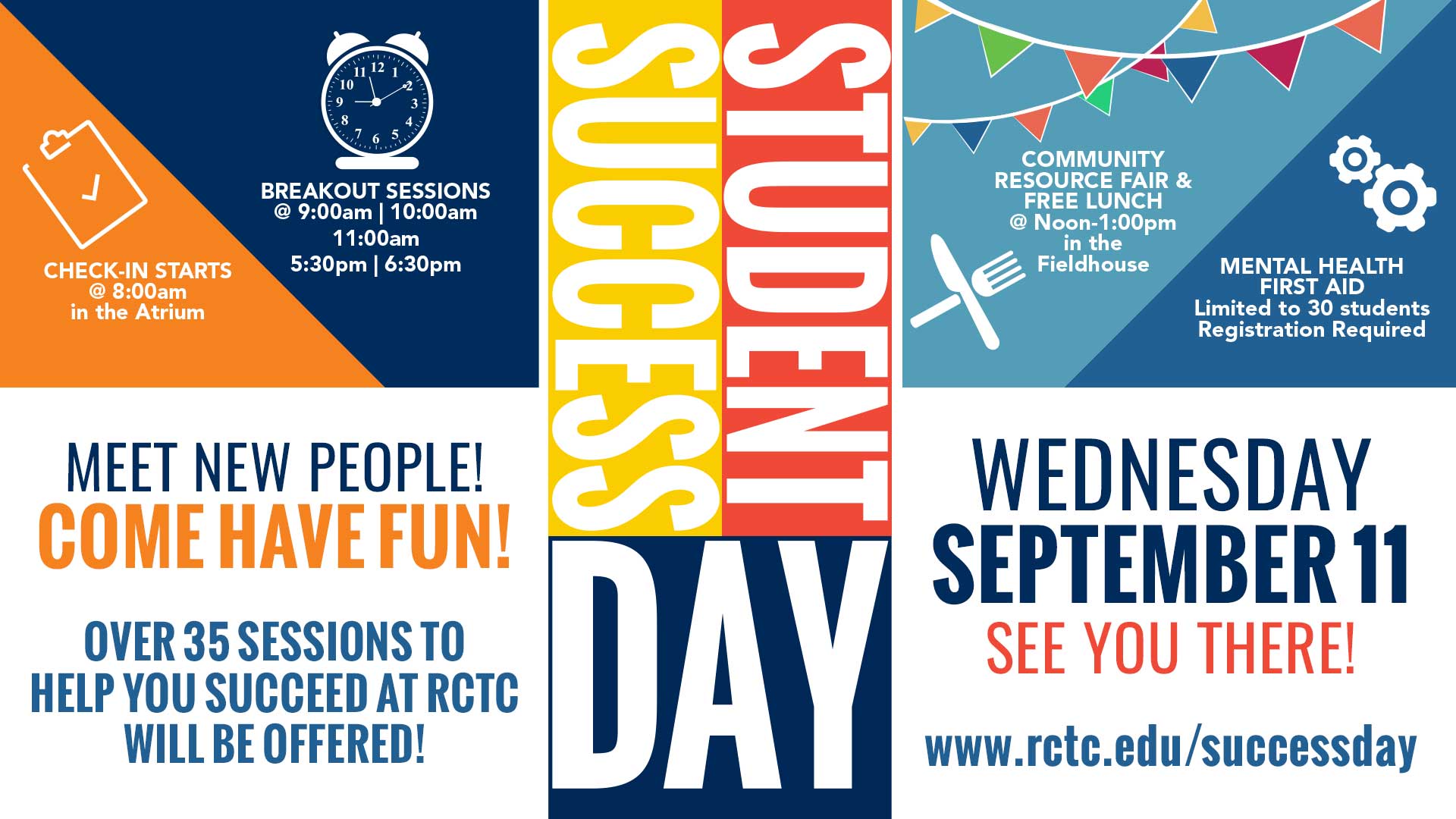 Student Success Day (SSD) is an opportunity to connect with friends, faculty and staff while attending sessions designed to help you succeed at RCTC and beyond!
Join us on Wednesday, September 11th!
Schedule-at-a-Glance 
8:00 am to 9:00 am: Check In at the Atrium
9:00am to 9:50am: Program Session One
10:00am to 10:50am: Program Session Two
11:00am to 11:50am: Program Session Three
12:00pm to 1:00pm: FREE Lunch and the Campus Community Resource Fair
Evening Program
4:30pm to 5:30pm: Check In and Resource Fair in the Atrium with FREE Dinner
5:30pm to 6:30pm: Program Session Four
6:30pm to 7:30pm: Program Session Five
6:00pm to 9:00pm: Special Event Bioethics at the Cinema in the Hill Theater 
See full schedule and program session information.
Bioethics at the Cinema: 6:00pm to 9:00pm in the Hill Theater 
Participate in a screening and discussion of the film Three Identical Strangers with the Mayo Clinic Biomedical Ethics Research Program. The film explores how identical triplets become separated at birth and adopted by three different families. Years later, their amazing reunion becomes a global sensation, but it also unearths a secret that has radical repercussions.
 Mental Health First Aid – LIMITED Space Available 
As part of Student Success Day (Wednesday, September 11) up to 30 students will be able to participate in Mental Health First Aid. Mental Health First Aid is an 8-hour course that teaches you how to help someone who may be experiencing a mental health or substance use challenge. The training helps you identify, understand and respond to signs of addictions and mental illnesses.
Just as CPR training helps a person with no clinical training assist an individual following a heart attack, Mental Health First Aid training helps a person assist someone experiencing a mental health crisis such as contemplating suicide. In both situations, the goal is to help support an individual until appropriate professional help arrives. Mental Health First Aiders learn a single 5-step strategy that includes assessing risk, respectfully listening to and supporting the individual in crisis, and identifying appropriate professional help and other supports.
Participants are also introduced to risk factors and warning signs for mental health or substance use problems, engage in experiential activities that build understanding of the impact of illness on individuals and families, and learn about evidence-supported treatment and self-help strategies. Participants receive a certificate and certification is valid for three years. The training is a great opportunity to develop skills to help others and would look great on a resume.
Please note that this training is a eight hours long and will take place on Student Success Day from 8:00am to 4:30pm. Participants will receive a free lunch and are expected to participate in the full training for certification.
 Register here for Mental Health First Aid 
For more information on Mental Health First Aid please visit: https://www.mentalhealthfirstaid.org/
A special thank you to the Southeast Minnesota Chapter of the American Foundation for Suicide Prevention for providing the funding to support this student training.
What Past Attendees Have to Say
"I felt like I was part of something great, and that we are all trying to grasp the same goals to have a better future."

"It made me feel proud to be a student at RCTC. It's nice to see how much the teachers and staff care about the students and how much they want everyone to succeed."

"I am a returning student and I have attended all past student success days. I found every single one of them helpful in making me a better student."

"I enjoyed the different seminars that were held including the ones offered at night! All the ones I chose to listen to really helped me seek out for help, to being confident in making a student group along with making new friends!" 
Contact Information
SSD Committee Chair: Rebecca Peine
Email: rebecca.peine@rctc.edu
Phone: 507-285-7195