Student Success Day (SSD) is an opportunity to connect with friends, faculty, and staff while attending sessions designed to help you succeed at RCTC and beyond! ​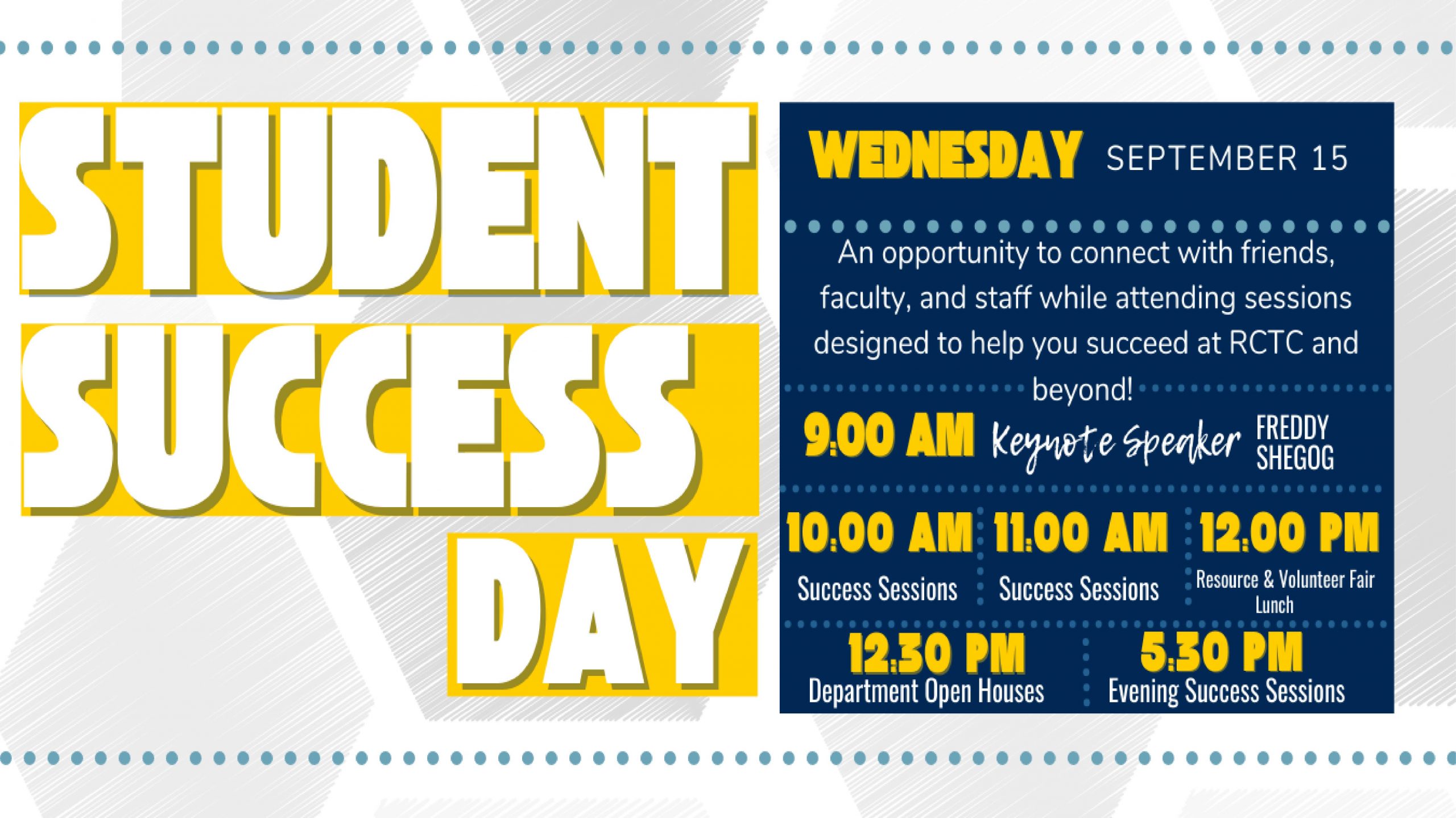 Schedule and Program Session Registration
Please select a program session and use the registration link to sign up. After registering, you will receive a confirmation email containing information about joining the webinar.
Wednesday, September 15, 2021
Keynote Information  
Leadership with Frederick Shegog
Frederick Shegog is a man who knows all too well about the struggles of this world. In his early twenties, he watched his future dreams fade away as substance abuse and mental illness took over his life. The next decade of his life would be a rough one, but not only would he come out better from it- he would change his life to helping others overcome as well.
Frederick Shegog, better known as Freddy, was always a happy and motivated kid until substance use disorder began to take over his life. Unaddressed mental illness, low self-esteem, and being bullied began to linger in his mind with each toxic substance he abused. It wasn't long until his struggles with addiction and mental illness took over, and he found himself homeless. Alone and on the streets in Philadelphia, eating discarded food he had found in the dumpster, Freddy realized he had hit his rock bottom.
Freddy uses his talents and skillsets to become an ally for schools by working with them to encourage students down a successful path. For more information about Freddy, visit his website HERE 
Student Success D2L Program Sessions
Not able to attend program sessions during the day? You can participate in previously recorded sessions through D2L Brightspace. Watch the announcements on D2L Brightspace for more information and how to self-register for program sessions.
Students can self-register in D2L for the following program sessions starting NOW. 
Tips for Success in Online Learning
Keys to Success: Confident Communication
How to Talk to Your Professor
D2L Program Sessions and content is accessible through September 15th
What Past Attendees Have to Say
"I felt like I was part of something great, and that we are all trying to grasp the same goals to have a better future."

"It made me feel proud to be a student at RCTC. It's nice to see how much the teachers and staff care about the students and how much they want everyone to succeed."

"I am a returning student and I have attended all past student success days. I found every single one of them helpful in making me a better student."

"I enjoyed the different seminars that were held including the ones offered at night! All the ones I chose to listen to really helped me seek out for help, to being confident in making a student group along with making new friends!" 
Contact Information
SSD Committee Chair: Heather Sklenicka
E-mail: heather.sklenicka@rctc.edu
Phone: 507-285-7502