Located in Rochester, Minnesota, our community is known as a great place to live, work, and go to school. RCTC welcomes applicants from all over the world. International applicants are defined as persons seeking admission that are not U.S. Citizens and not U.S. Immigrants. Only those defined as permanent residents, refugees, and political asylees are eligible to complete the general admission process,
DATES AND DEADLINES

RCTC strongly encourages International Students to apply as early as possible to allow time for processing.
COMPLETED International Student applications are due to the International Student Office no later than:
• Stateside International Application Deadline: 30 days before start of term
• Overseas International Application Deadline: 60 days before start of term
I.  Identification Requirements
Applicants must be at least 18 years of age.
Copy of valid passport must be submitted with your application materials.
II. English Proficiency Requirements
International students who wish to attend RCTC with an F-1 Student Visa must prove English language proficiency. There are several ways to provide this:
Attend and graduate from an accredited United States secondary or post secondary institution, such as a US high school, college or university.
Satisfactorily complete college-level English coursework at an accredited US post-secondary institution.
Complete a US ESL school program completion with level 8 or higher.
Take and achieve a passing score on the Test of English as a Foreign Language (TOEFL) or equivalent evaluation.

The minimum score required for admission to RCTC on the written TOEFL is 450
Minimum CBT-based TOEFL score of 133
Minimum Web-based TOEFL score of 61, with no less than 15 subscores on Reading, Listening, Speaking, and  Writing

RCTC's school code for TOEFL is 6610. Your TOEFL results must be sent directly from the testing center to RCTC.  Get more information on exam costs and testing locations for the TOEFL.
STEP English exam scores and IELTS score of 4.5-5.0 are considered with additional evaluations.
III. Submission of an accredited high school transcript identifying date of graduation.

  Transcripts must be submitted in the English language.
IV. Submission of official transcripts from any college or university attended.
Foreign college or university transcripts must be evaluated by an accredited evaluation service for transfer credit.
If transferring from another US college or university, the International Student F-1 Visa Transfer Authorization Form  must be completed.

If you are approved for transfer, you will need to have the International Admissions Office at your initial school will "release" your SEVIS record from that institution. After being released by the initial institution, RCTC can create your new I-20.
V. Completion and Proof of Financial Support.
Students must show proof of financial support for an entire academic year.
The affidavit of financial support (page 1) must be completed by the student.
If the student is using a sponsor, page 2 must be completed by the sponsor.
Original bank statements in US Dollars (USD) on official bank letterhead and signed by a bank official are REQUIRED for support.
Forms/FAQ's:
IV. Other Documents
It is recommended that persons traveling from overseas apply three full months prior to the start date. See the Academic Calendar for starting dates of semesters.
POST-ADMISSION PROCESS:
I. Visa and Passport Information
Before you make travel plans, check your admission papers to be sure of the expected arrival date. The arrival date is the date that you will be expected to be on campus for orientation, so be sure to arrange travel plans which enable you to be at RCTC by the date noted on your I-20.
Students may not arrive in the United States more than thirty (30) days before the start date listed on their I-20.
Make certain your passport is valid and that you have obtained your F-1 visa from a U.S. embassy or consulate.
There is a $350 USD processing fee for the I-20 that all F-1 students must pay prior to making their visa appointment. This fee is paid directly to USCIS and should not be sent to RCTC.
For more information on this $350 processing fee, please see: www.fmjfee.com
II. Health Insurance Costs:
Health insurance is mandatory for all F-1 students. Separate from tuition and fees the insurance costs are listed below must be paid in full at the time of enrollment. A payment plan is not available for health insurance.
The only means of waiving RCTC's mandatory health insurance requirement is to demonstrate that you have current health insurance coverage through another sponsoring agency or government.
Health Insurance costs for the 2019-20 Academic Year are estimated at:
RCTC's insurance plan is underwritten by The Mega Life and Health Insurance Company.  Phone Number: 1-800-767-0700.
III. Registering with International Student Services Upon Arrival at RCTC.
Once international students have arrived at RCTC, they should report to the International Student Office: SS134
The International Student Office will need to electronically inform SEVIS of each student's arrival. This must be done within 20 days of the student's arrival or their student status could be affected.
IV. Other Information
INTERNATIONAL STUDENT RESOURCES:
CONTACT INFORMATION:
Location
The International Student Office is located in the Counseling Center of the Student Services building on RCTC's campus, #SS142.
Mailing Address
International Student Services
851 30th Avenue SE
Rochester, MN 55904-4999
Welcome and One Stop Center, Box 39
Office Hours
The International Student Office is open year-round. Additionally, the Director of Admissions for RCTC is available for assistance when the International Student Office is closed. RCTC is closed during several holidays throughout the year including the last week of each calendar year.
Appointments
Call 507-280-3120 or email Emily Yang at emily.yang@rctc.edu to schedule an appointment.
Staff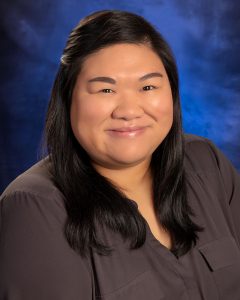 Emily Yang is the International Student Advisor for RCTC.
Phone: 507-280-3120
Email: emily.yang@rctc.edu