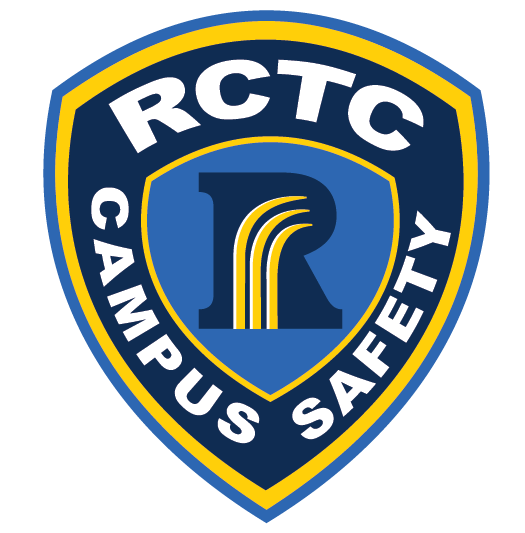 The mission of Campus Safety is to provide a safe and welcoming environment to enhance the well-being of students, faculty, staff, and visitors and protect all College property.
The Campus Safety Department strives to achieve this mission by means of a community-friendly approach that enhances safety through the visibility of security personnel, preventive patrols, and positive conflict resolution.
RCTC Campus Safety collaborates with local law enforcement and community organizations in fulfilling its mission.
Campus Safety Office
Campus Safety is located on the first floor of Coffman Hall, room 102.
Contact by phone:
On-campus extension: 5050
Security Office Direct: 507-280-5050
Emergency Medical Assistance
Campus Safety will summon Emergency Medical Services (EMS) if needed or requested. Campus Safety does not transport injured or stricken individuals to hospitals or emergency care centers. If an emergency arises on campus, call Campus Safety using a regular college telephone by dialing 5050.
RCTC Student and Staff Photo ID Cards
Students, faculty, and staff of RCTC are issued a photo ID card. The card serves as your library card and is also required for other campus services including financial aid, bookstore, access to athletic facilities, and admission to campus events. Students will need to bring (1) your RCTC Stinger ID number (2) proof of registration (i.e. your class schedule), and (3) one of the following: current photo IDs: a Driver's License, a State ID, a Military ID, or a valid Passport.
Online Education Student ID Cards
Students whose classes are entirely online or concurrent students in the high schools do not need to obtain an ID card unless they plan to come to Rochester. RCTC students registered for online courses are welcome to come to campus to get an RCTC Photo ID card in the Security office (8am-4pm Monday-Friday). This is used to check out books, buy books at the Bookstore, access the Fitness Center, for admittance to sporting and theater events, and for free bus rides. If you never come to Rochester, there is no need to obtain a card. Access to our online resources including article databases, eBooks, and the interlibrary loan is available using your STAR ID/Password.
When Does a Student ID Card Expire?
ID cards will expire when enrollment becomes inactive at RCTC.
Replacement Student Photo ID cards are available. There is a $5.00 + tax fee for replacing a lost ID card.
Lost and Found
Campus Safety maintains a lost and found service for the campus community. Report lost items and turn in items that are found unattended to the Campus Safety Office. Found property will be held until the end of each semester. All unclaimed items will be donated or destroyed. Lost and found can be contacted at 507-280-5050.
Parking and Vehicle Regulations
Parking and vehicle regulations are in place at RCTC to ensure the safety of students, faculty, staff, and visitors to the College. Campus Safety issues parking permits (including temporary and vendor) and will answer all questions regarding parking and vehicle regulations. Parking is monitored and vehicle regulations are enforced by RCTC Campus Safety.
As a courtesy, Campus Safety offers the following vehicle assistance:
Jump-start batteries
Locate vehicles
Accident, theft, and damage reports
Although general security patrol is provided, you are advised to lock your vehicle at all times and to secure valuables out of sight. RCTC is not responsible for damage, loss, or theft of vehicles or other property of those using College facilities.
During emergencies or other special circumstances or events, Campus Safety may establish and enforce temporary parking and vehicle regulations deemed necessary.
Parking regulations have been adopted for the benefit of students, faculty, staff, and visitors, and to enable Campus Safety to manage a heavily trafficked campus. Parking is defined as the standing of a vehicle upon any property owned or controlled by the College whether accompanied or unaccompanied by an operator for more than one minute.
All persons shall park in assigned areas and within a single parking space. Illegal parking is defined as:
Parking in a restricted area (such as fire lanes, at yellow painted curbs, in "no parking" areas, or in loading docks, etc.);
Parking in a space or area specifically designated with a "reserved" sign. No person shall park in handicapped designated parking areas unless registered with the State of Minnesota and displaying an appropriate placard.
Spaces for Students, Faculty/Staff, and Visitors
There are two designated Faculty/Staff areas where students and visitors are not allowed to park. These areas are located in the East and West parking lots of the main campus. Signs are displayed in this area showing the designated Faculty/Staff parking spaces.
Penalties for Parking Violations
Students, faculty, and staff charged with a violation shall pay the appropriate fine by making payment (in person or by mail) at the Cashier's window within 10 days of the violation. Unpaid tickets will be filed for collection, and the student's accounts will be frozen.
Schedule of Fines
| | | |
| --- | --- | --- |
| CODE | PARKING VIOLATION | FINE |
| 01 | Unauthorized handicapped parking | $30.00 |
| 02 | Fire Lane | $30.00 |
| 03 | Special Permit | $30.00 |
| 04 | Time Parking Limit Exceeded | $10.00 |
| 05 | NO PARKING area | $10.00 |
| | MISCELLANEOUS VIOLATION | |
| 06 | Other | $10.00 |
Read Rochester Community and Technical College's Emergency Operations Plan.