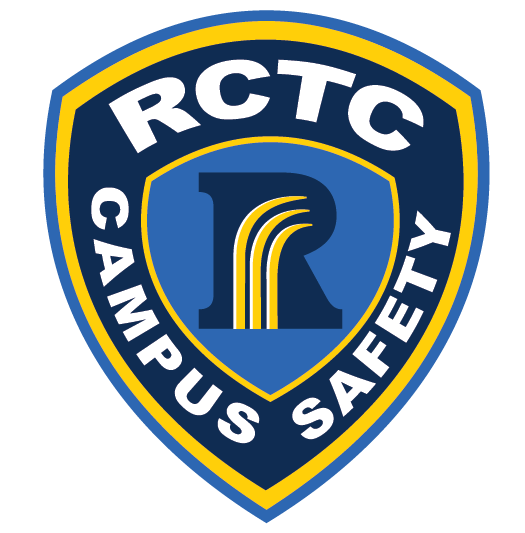 The mission of Campus Safety is to provide a safe and welcoming environment to enhance the well-being of students, faculty, staff, and visitors and protect all College property.
The Campus Safety Department strives to achieve this mission by means of a community-friendly approach that enhances safety through the visibility of security personnel, preventive patrols, and positive conflict resolution.
RCTC Campus Safety collaborates with local law enforcement and community organizations in fulfilling its mission.
Campus Safety Office
Campus Safety is located on the first floor of Coffman Hall, room 102.
Contact by phone:
On-campus extension: 5050
Security Office Direct: 507-280-5050
Emergency Medical Assistance
Campus Safety will summon Emergency Medical Services (EMS) if needed or requested. Campus Safety does not transport injured or stricken individuals to hospitals or emergency care centers. If an emergency arises on campus, call Campus Safety using a regular college telephone by dialing 5050.
RCTC Student and Staff Photo ID Cards
Lost and Found
Campus Safety maintains a lost and found service for the campus community. Report lost items and turn in items that are found unattended to the Campus Safety Office. Found property will be held until the end of each semester. All unclaimed items will be donated or destroyed. Lost and found can be contacted at 507-280-5050.
Parking and Vehicle Regulations
Parking and vehicle regulations are in place at RCTC to ensure the safety of students, faculty, staff, and visitors to the College. Campus Safety issues parking permits (including temporary and vendor) and will answer all questions regarding parking and vehicle regulations. Parking is monitored and vehicle regulations are enforced by RCTC Campus Safety.
As a courtesy, Campus Safety offers the following vehicle assistance:
Jump-start batteries
Locate vehicles
Accident, theft, and damage reports
Although general security patrol is provided, you are advised to lock your vehicle at all times and to secure valuables out of sight. RCTC is not responsible for damage, loss, or theft of vehicles or other property of those using College facilities.