ABOUT STUDENT GOVERNMENT
Student Government exists as an integral part of the College's governance. It is the official representation of the RCTC student body and represents the students' rights and views to all RCTC stakeholders. Student Government works to annually approve the Student Life budget, set the Student Life Fee, and govern all new and existing student clubs on campus. View the Constitution and By-laws. Current officers and additional information can be found under Student Government.
ELECTION VOTING INFORMATION
The Spring General Election will take place Monday, April 17th. Any currently enrolled RCTC student has the ability to vote in the General Election. This is a chance to elect the right student leaders to represent you, the students! Voting will always take place through a secure D2L online platform. Follow these simple instructions to vote:
Access rctc.learn.minnstate.edu and log into D2L with your StarID
Click "View All Courses"
Find and enter the course titled "Student Government Spring Election 2023"
Click Content and Materials to read the candidate biographies
Click Assessments and Vote to vote in the election
EXECUTIVE OFFICER POSITIONS
All Executive Officer position descriptions can be found in the Student Government Constitution. Benefits of being an Officer include, but are not limited to:
All Executive Officer positions are paid

President and Vice President positions are paid $1900 per semester
Treasurer and Secretary positions are paid $1200 per semester

Travel opportunities for LEAD MN and student government conferences
Leadership training and development
Learning about local, state, and national politics
Networking with students, staff, faculty, and administrators
Gaining applicable life skills to help you succeed in, and beyond, college
Making noticeable change and impact at RCTC
Creating a network of friends
If you are interested in running for a position, please complete this Intent to Run Form by midnight on Thursday, April 13th.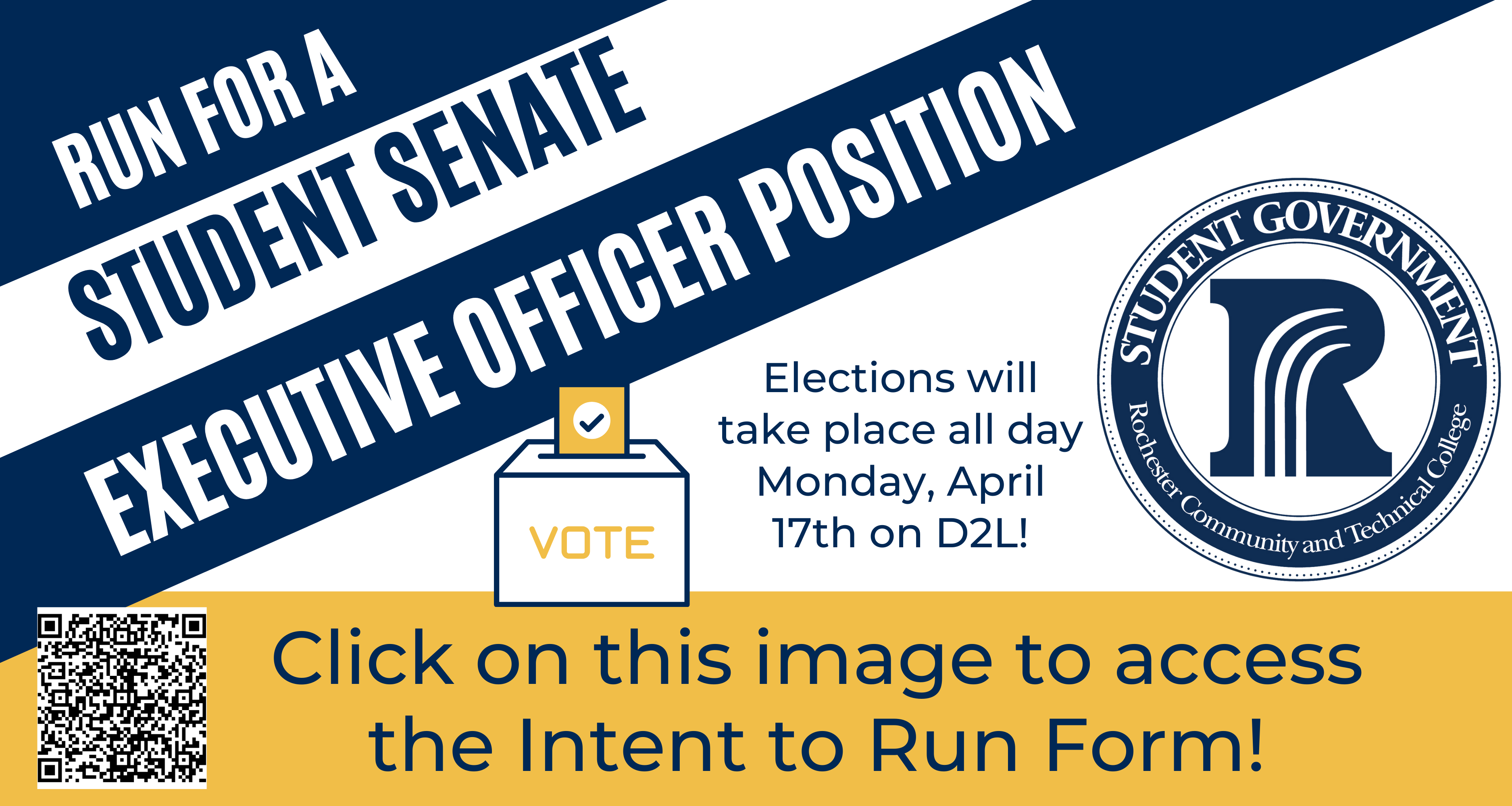 CANDIDATES
Candidates may campaign on campus and will be regulated by the Elections Handbook.
2023-2024 EXECUTIVE OFFICER CANDIDATES
Rachael Linscott- Secretary
Evie Kastner- Secretary
Shelli Bandemer- Treasurer
Issac Coley- Vice President
Maple Lassila- President
Manakherto Shoble- Treasurer
Edwin Islas Aguirre- President
Mekedelawet Mersha- Vice President