The CARE Team provides students experiencing distress with the support and access to College and community resources needed to be successful. Members of the College community are encouraged to refer students who may be experiencing distress or whose behaviors have raised concern for their well-being. The CARE Team will follow up with the student to provide timely and supportive assistance.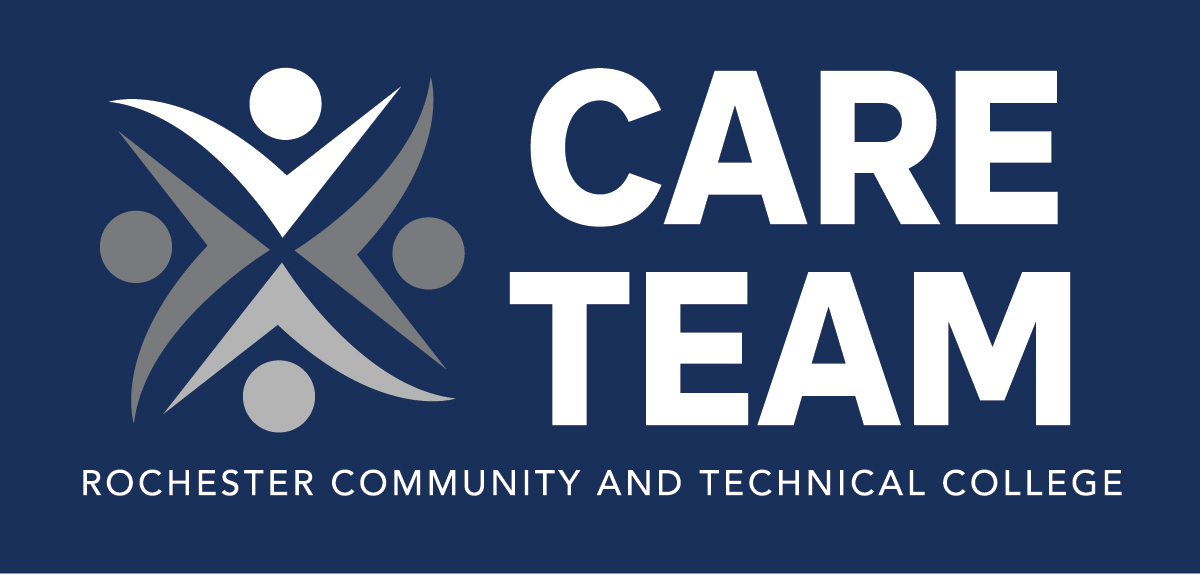 CARE Team Purpose
CARE Team provides care and support for students who may be in distress and works to prevent student behaviors that are disruptive or pose a threat to the College community
The team meets on a regular basis in order to:
Collect information from students, faculty, staff, and community members about students in distress and whose behaviors may pose a threat to themselves or the campus community
Review collected information and assess for risk of harm to an individual student(s) and/or the College community
Implement appropriate interventions based upon the level of risk assessed to prevent harm and support the safety and well-being of individual student(s) and/or the campus community
Support and connect students in distress to College and community resources to support their personal and academic success
Educate students, faculty, staff, and community members on how to recognize concerning behaviors and encourage reporting
Please note that immediate action should be taken by calling Campus Safety at 507-280-5050 or 9-1-1 when:
Student is threatening harm to self or others
Student behavior is threatening or fearful
Student is not following a directive to leave a classroom/space following a disruption
Student is reporting or initiating a threat to the campus community
If immediate action is not needed you may submit a CARE Referral.
Reports submitted using the Care Referral are immediately entered into a secure database and an automated notification is sent to the Dean of Student Success for an initial review. The referral is then presented to CARE for review, assessment of risk, and recommendations for intervention.
Reports are reviewed Monday through Friday during business hours.
CARE Team Members
Teresa Brown – Vice President of Student Affairs
Katie Swegarden – Coordinator of Student Health Services
Scott McCullough – Security Coordinator
Travis Kromminga – Director of Disability Services
Deb Vang – College Counselor
Larry Frazier – Dean of Student Success
 The CARE Team may also consult with and/or bring in additional team members in specific cases that warrant specialized knowledge, skills, and expertise.
Role of faculty and staff in supporting students in distress
Faculty and staff members are often the first to recognize and reach out to students in distress. In your interactions with students, you may identify particular indicators of distress or behaviors that are inconsistent with your typical experiences with that student. Reaching out to a student in distress by communicating your concern and interest in their well-being is an important first step in supporting them and making a successful referral to the appropriate campus and/or community resources.
It is important for you to understand the limits of your responsibility when supporting a student in distress. You are not expected to provide counseling to students or be responsible for solving their issues or concerns.
Confidentiality and Student Privacy
The Family Educational Rights and Privacy Act of 1974 (FERPA) does not prohibit the disclosure of observations and knowledge about a student amongst college officials when there is a legitimate safety concern.  You have the ability to consult with the appropriate college personnel (Campus Safety, Student Conduct, Student Health etc.) for additional support, suggestions, resources, and assistance. If you make a CARE Referral you will receive confirmation of its submission. Additional follow-up information will be shared as necessary in order to protect the health, safety, and privacy of the student and in accordance with FERPA, HIPPA (as applicable), and within established college guidelines and legal and professional standards of confidentiality.