Career/Program Overview
The Clinical Neurophysiology Technology Program at Mayo Clinic offers training to prepare competent entry-level neurodiagnostic technologists.  Professionals in this health sciences field perform tests that assist physicians in the diagnosis and evaluation of diseases of the brain, peripheral and autonomic nervous systems, and disorders of sleep using sophisticated electronic testing equipment. Neurodiagnostic technologists interact with patients who range in age from newborns to the elderly.
Specifically this program prepares graduates to perform the following neurodiagnostic procedures:  Electroencephalography (EEG) recording electrical activity of the brain; Nerve Conduction Studies (NCS) recording electrical activity of nerves and muscles; Evoked Potentials (EP) measuring the central nervous system response to sensory stimuli; Polysomnography (PSG) monitoring physiological activity during sleep; and Autonomic Testing which is the measuring of involuntary nervous system function.
Curriculum-at-a-Glance
The final 15 months, students gain hands-on clinical experience in Mayo's Division of Clinical Neurophysiology and the Center for Sleep Medicine. Clinical rotations are scheduled in each laboratory.
Program/Degree Options
Associate in Applied Science (AAS) degree, 81 credits.
Certificate of Completion awarded by the Mayo Clinic College of Medicine and Science.
Graduates are eligible to take professional certification examinations given by Neurodiagnostic Credentialing and Accreditation (ABRET), American Association of Electrodiagnostic Technologists (AAET), American Board of Electrodiagnostic Medicine (ABEM)) and the Board of Registered Polysomnographic Technologists (BRPT). Students are required to take EEG examination Part 1 prior to graduation.
Program Start Date(s)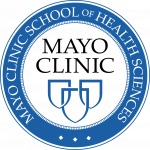 This program is jointly offered by RCTC and Mayo Clinic College of Medicine and Science and requires a separate application to Mayo Clinic School of Health Sciences.  General coursework can be started any semester. To complete the program in 24 months, students must start the CNT program and related coursework fall semester.
Career Opportunities/Information
Career opportunities for neurodiagnostic technologists are excellent. Graduates are employed in hospitals, clinics, physician's offices, epilepsy monitoring units, sleep disorder centers, research institutions and the medical instrument industry.  The median annual starting salary for a full-time technologist is $47,000. Salary is dependent upon location and employer.
Accreditations/Articulations
The Higher Learning Commission accredits both Rochester Community and Technical College and Mayo Clinic College of Medicine and Science.  Upon the recommendation of the Joint Review Committee on Education in Cardiovascular Technology (JRC–CVT), the Commission on Accreditation of Allied Health Education Programs (CAAHEP) accredits the Clinical Neurophysiology Technology Program.
For a current list of RCTC program articulations see us at: www.rctc.edu/academics/articulations/
Additional Information
Program Website: www.mayo.edu/mshs/careers/clinical-neurophysiology-technology/clinical-neurophysiology-technology-program-minnesota
Program Plan: www.rctc.edu/academics/programs/
More Information: www.rctc.edu/about/contact-information/
Overview content updated: 2018-06-01