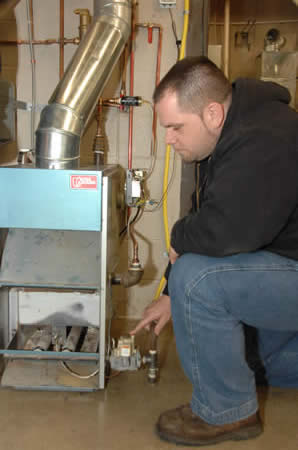 RCTC's Facility and Service Technology labs are equipped with operational boilers, turbines, steam engines, MIG, TIG and acetylene welders, plumbing labs., PLC and electrical trainers, refrigeration trainers, many operational furnaces, split air-conditioning systems, operational building automation, HVAC, pneumatic system trainers and the latest in Automated Building Control Systems.
Unique and important aspects of RCTC's FAST program include:
Boiler licensing
Refrigerant certification
Training in Automated Building Control Systems
RCTC's FAST program is one of only a few programs in the state of Minnesota that offers students the opportunity to earn a second class "A" boiler engineer's license upon completion of all program requirements and passing the state exam. RCTC students also have the opportunity to acquire a "Universal Refrigerant, Transit and Recovery Certificate" with the successful passing of the offered exam. Unique training in Automated Building Control Systems is also offered.
RCTC has had a 95 – 100% pass rate on the State of Minnesota Special Boiler Engineer's license exam and the Second Class "A" Boiler Engineer's exam. For the 2008 spring and fall semesters, RCTC had a 100% pass rate for the Refrigerant Transit and Recovery Exam. RCTC has also started offering R-410 certification. RCTC's FAST program graduates now complete a National Occupational Competency Trade and Industry Exam. RCTC students have tested above the national average in every semester it has been offered.
Second-year students of the FAST program are placed with a co-op training sponsor to gain hands-on work experience. RCTC is accredited through North Central Accreditation and has partnered with local businesses and industry to provide high-quality cooperative training opportunities for students interested in the FAST field.