To Request Information by Email:  admissions@rctc.edu
To Request Information by Phone: 507-285-7557
Kevin Dobbe
Classes
:  Musicianship, Music Fundamentals, Music Appreciation, Brass, and World Music
Office: EA263
Phone: 507-280-2965
Email:
kevin.dobbe@rctc.edu
Dr. Kevin Dobbe
is on the faculty for the Digital Arts and music departments at the Rochester Community and Technical College in Rochester, Minnesota. Kevin received a Bachelor of Music in music composition and vocal performance from the University of Wisconsin-Oshkosh; a Master of Music in vocal performance from Kent State University in Kent, Ohio; and a Ph.D. in Music Education with an emphasis in Computer-Aided Instruction from the University of Minnesota. Kevin is an active composer in both electronic and acoustic ensembles. His acoustic compositions range from vocal art songs to large works for full orchestra and choir. His interest in music technology has led him to various uses of technology in many compositions. His current interactive installation series involves the use of original music, sounds, spoken poetry and video projection, all of which are triggered by and controlled by the motion, location, and color of cloths by the viewers of the work. As a percussionist, Kevin has remained active as a performer in
many groups since the 1970's and includes works on multiple CD projects.
Matt Hafar
Classes
:  Musicianship, Music Fundamentals, Music Appreciation, Brass, and World Music
Office: EA139
Phone: 507-285-7121
Email:
matt.hafar@rctc.edu
Dr. Matt Hafar has been teaching music at RCTC since 2006. He previously taught at universities in North Carolina and Colorado. He has taught a wide variety of courses, including music theory, music appreciation, world music, class piano, brass lessons, and directed brass ensembles. After some recent graduate study at Minnesota State University, Mankato, Dr. Hafar has also team-taught a course in English, helping students from other countries improve their English listening and speaking. Matt has a B.A. from St. Olaf College in music theory and Russian studies. His graduate work was at the University of Iowa, where he earned a master's degree in trombone performance; and a Ph.D. in music theory. Dr. Hafar taught English and music at a high school in Slovakia for 3 semesters. During this time, he had the opportunity to learn several Slovak folk instruments and perform at churches and folk festivals around Slovakia. In Rochester, Dr. Hafar sings in a choir and directs a large brass ensemble at a local church. He was principal trombone with the Rochester Pops Orchestra and now is principal trombone with the Mayo Clinic Chamber Orchestra.
Denny McGuire
Classes: 
Guitar/Electric Bass, World Drum Ensemble, Popular Music, and Rock
Office: EA123
Phone: 507-285-7434
Email:
denny.mcguire@rctc.edu
Denny McGuire, originally from the Chicago area, received his B.A. ('84) and M.A. ('99) from St. Mary's University in Winona Minnesota. At RCTC he teaches Guitar and Bass lessons, "Beginning Guitar Class", "Popular Music in the United States", and directs the "World Drum Ensemble". He also works for St. Mary's University where he teaches Guitar and Bass, "Guitar Class", and directs the percussion ensemble "Batucada Nossa Senhora". In addition to teaching Mr. McGuire performs regularly as a bassist, percussionist, and guitarist with various jazz, funk, and world music groups throughout the area.
Aaron Shannon
Classes
:  Audio Production 1 and Audio Production 2.  Advisor of the Music Tech Club.
Office: EA263
Email:
aaron.shannon@rctc.edu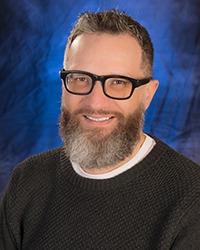 Aaron Shannon is a recording engineer, producer, musician, and co-founding member of the Billboard charted band Plural Z. Aaron has received accolades for his engineering and production, working with artists such as Francesca Battistelli, Sidewalk Prophets, Chris August, Hawk Nelson, Stellar Kart, and Remedy Drive; several of whom have received multiple Dove Award nominations/wins. Aaron was the head engineer for Francesca Battistelli's record "If We're Honest" that was nominated for two Grammy Awards in 2015 and won Best Christian Performance in 2016. As a recording engineer, Aaron has worked on more than thirty Top 10 singles in the United States, including fifteen #1 charted songs. Aaron co-wrote the track "Come Alive" currently used for one of the theme songs on Discovery 3D Channel. Aaron has recently become an adjunct professor at Rochester Community and Technical College in Minnesota teaching Audio Production. Originally from the Iron Range in northern Minnesota, Aaron received his Bachelor of Music in Recording Technology from the University of Wisconsin-Oshkosh (1998) and his Master of Music Technology from Indiana University and Purdue University Indianapolis (2018).
Ainhoa Urkijo
Classes
:  Private and Class Piano, and Music Appreciation
Office: CC206
Email:
ainhoa.urkijo@rctc.edu
Ainhoa Urkijo
, a native of Bilbao, Spain, received her degree in Piano Performance from the Arriaga Superior Conservatory of Music of the same city. Later she obtained a Masters Degree in Accompanying and Coaching at the Westminster Choir College in Princeton, NJ under the preceptorship of Dalton Baldwin. She has worked privately with leaders in the Opera and Art Song including, Paul von Schillhawsky in Paris, Wolfram Rieger in Barcelona, Charles Spencer in Viena, Harmut Holl and Mitsuko Shirai at the Mozarteum in Salzburg, Ileana Cotrubas in Barcelona, Dalton Baldwin in Nice and Alejandro Zabala in Bilbao. Her work experience includes ten years as a Piano teacher and Accompanist at the Bilbao Superior Conservatory of Music. She was also an accompanist at Westminster Choir College in Princeton, NJ and at the Academy of Vocal Arts in Philadelphia, PA. Vocal Coach at the University of the Arts in Philadelphia, PA, and the Center of Superior Musical Studies of the Basque Country MUSIKENE in San Sebastian, Spain. She was the Musical Director and rehearsal pianist during the 2002-03 season if the Opera North Carolina and the rehearsal pianist at the Philadelphia Opera under the baton of Maurizio Barbacini. In addition, she has accompanied the voice lessons of distinguished singers such as Tom Krause, Benita Valente, Zehava Gal and Christopher Robertson. She has accompanied singers such as Ainhoa Arteta, Christopher Robertson, Maria Luisa Tomes, Carlos Serrano, Paul Adkins, and Tamara Mathews. She has performed in concert halls throughout Europe and the USA.
Recently, she has been a visiting Vocal Coach at Luther College in Decorah, IA and Mrs. Urkijo lives in Byron, MN and she is a faculty member at RCTC.
Michael Mangan
Classes
:  Concert Band and Concert Choir
Office: CC112
Phone: 507-285-7576
Email:
michael.mangan@rctc.edu
Nathan Davidson
Classes
:  Woodwinds and Jazz Band
Office: EA123
Email:
nathan.davidson@rctc.edu