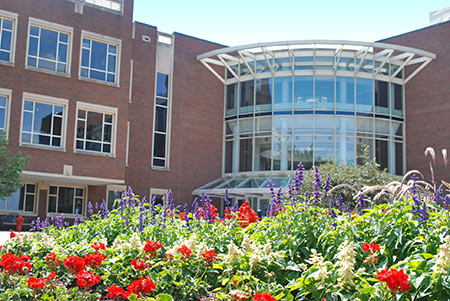 Our Mission in the Facilities Department is to service and maintain the building of Rochester Community and Technical College. Throughout the year, we are working on a number of projects to enhance the experience of anyone who walks through RCTC's doors.
In addition, we provide services and support to the faculty and staff of RCTC enabling them to teach and work in safe and up-to-date classrooms and offices.
Facilities Services
Facilities Cell Phone 507-358-2230
Future Projects
The following is a listing of some of the larger projects that RCTC intends to complete in the near future. Check back for additional information on these projects and others as we develop them further.
Campus wide Exterior Window and Door Replacement/Repairs-Priority Two
Heintz Center East Parking Lot Maintenance and Repairs – Phase III (south portion of lot)
Heintz Center B Wing Renovation (Predesign)
Sports Center Parking Lot Main Drive Reconstruction
Current/Ongoing Projects
The core components of this project are:
Removal of 42,920 GSF of substandard and poorly utilized space
New Academic Addition of 21, 780 GSF and Renovation of 20,120 SF, improving utilization overall
New accessible campus entrance and façade from the west
Courtyard and Site Development and Storm Water best practices conforming to State Statute (MSBG-B3)
New 2,250 GSF Central Chiller Plant and increased energy efficiency
Grounds Storage Garage

The Grounds Storage Garage project will relocate and consolidate the campus grounds maintenance equipment storage to a more centralized location.  This project is necessary to allow for construction of the planned building addition on the west end of Endicott and Coffman Halls.  The new Grounds Storage Garage will be located north of the Regional Sports Stadium facility and will include: 1 wash/temporary parking bay, 4 storage bays for grounds maintenance equipment, two storage bays for dome and athletics equipment, and an open bunkered salt and sand storage area.  The site will have controlled access to include a perimeter fence and motorized gates with card readers; the site also includes an enclosed trash area, permanent charging stations for law enforcement program vehicles, and an above-ground fuel tank with both diesel and gasoline dispensing stations. The project is currently in construction and planned to be completed by January 2019.
Completed Projects
RYFSA Sports Complex
The RYFSA Sports Complex Project used the remaining funds from the Rochester Regional Sports Stadium Project that were provided through Rochester City Sales Tax funds. This project included upgrades to the existing softball complex on the east end of RCTC's property.
The core components of this project were:
New concessions, restroom, and storage building with covered seating areas

Upgrades to softball field #4 to meet NJCAA compliance requirements

New scoreboards at all fields

Infrastructure for future field lights
Heintz Center West Parking Lot Improvements & Repairs
The Heintz Center West Parking Lot Improvements & Repairs project did exactly what the name implies, it was an improvement and repair project to the Heintz Center West Parking Lot.  The Heintz Center West Parking Lot was our highest campus priority for deferred parking lot improvement work and was in dire need of repairs to the sub-base and parking/drive surface.  This project repaired/replaced the sub-base and reconfigured the overall lot layout to provide a more efficient parking layout to increase the number of available parking spaces and improve traffic flow.  This project also included upgrades to the site technology and lighting and reconfigured a portion of the pedestrian walkways.